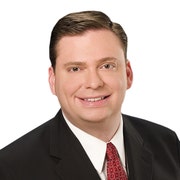 Jim Weber is a meteorologist for FOX 13 News. He can be seen on the FOX 13 News at Noon. Jim joined the FOX 13 team in February 1995.
Born in Cincinnati, Ohio, Jim moved with his family to the Tampa Bay area when he was just 9 years old. Growing up in nearby Sarasota, Jim developed a love of weather. He remembers tracking hurricanes with his atlas and trying to understand what made these storms so unpredictable. He would make his own predictions and share them with his family.
This interest in forecasting led him to Florida State University's renowned program in meteorology, the home of the "Superensemble," which is currently utilized by the National Hurricane Center. He received his Bachelor of Science degree in meteorology with a minor in mathematics in 1994.
Aside from his love of weather, Jim also enjoys computer science, which has served him well as a meteorologist, and has led him to develop McIdas HD for use on TV and on the web. He was also instrumental in developing many of the tropical computer model animations and buoy data maps on the MyFoxHurricane.com website. This became the first site to easily display water temperatures and wave heights across the tropics with satellite loops and forecast models dedicated to tracking hurricanes.
Jim is a member of the meteorological honor society Chi Epsilon Pi and is certified by the American Meteorological Society and the West Central Florida Chapter of the American Meteorological Society.
In his spare time, Jim enjoys traveling and riding his Trek on local bike trails. Jim lives in Tampa with his wife Anne, daughter Hannah, and son Matthew.
If you would like to contact Jim, you can email him at Jim.Weber@fox.com. You can also connect with him on Facebook and follow him on Twitter @JimWeberFOX.
The latest from Jim Weber
On Wednesday, the National Oceanic and Atmospheric Administration (NOAA) put out its predictions for the rest of the 2021 hurricane season and now says there is a 65% chance of above-average activity.
Many drivers are proving they do not know -- or do not care -- about laws that require them to hit the brakes for stopped school buses.