Astros to play Rangers at Tropicana Field in St. Pete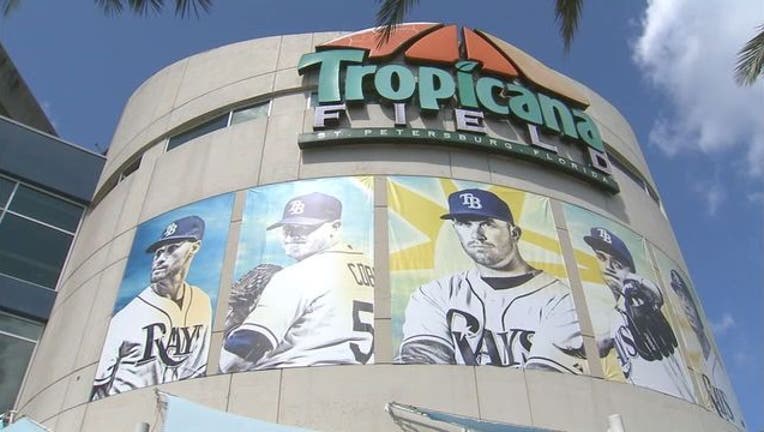 article
HOUSTON (AP) - The Houston Astros will play their series against the Texas Rangers at Tropicana Field in St. Petersburg, Florida, this week, the biggest change yet forced by Hurricane Harvey and widespread flooding that spread more misery across Texas on Monday.
Both the Astros and Rangers flew to Dallas after games in California on Sunday to await news of where the series would be held. After an off day Monday, they will now head to St. Petersburg, where the Astros will have "home" games far away from home, just like they did in the wake of Hurricane Ike in 2008 when they played two scheduled home games in Milwaukee. The three-game set begins Tuesday.
The team also said a three-game series against the New York Mets that begins on Friday may also be played at Tropicana Field, the home of the Tampa Bay Rays. A person with knowledge of the decision told The Associated Press that the decision has already been made and shared with the players, though there was no word from the team or Major League Baseball. The person spoke on condition of anonymity because the move was not disclosed.
If the Astros play both series in Florida, they will end up playing 19 straight games away from Houston, where the AL Central leaders last played on Aug. 24. A 10-game road trip begins after the Mets series.
"The safety of our fans, players and staff remain our main priority," Astros President Reid Ryan said. "We are extremely grateful to the Tampa Bay Rays organization for allowing us to use their facility."
Rangers general manager Jon Daniels said the team was open to hosting the series in Arlington this week, but had no interest in swapping a series against the Astros later in the season to accommodate the change. He said the Rangers declined partially because of thoughts for the fans, but also because that change would have left the Rangers with a 12-game road trip late in the season.
"Just the competitive challenge of having our guys' last road trip of the year, (a) four-city trip was not something that we wanted to do," he said. "We were prepared, we offered to host the series, but the decision was made to go to Tampa instead."
As the flooding dominated the news for another day, athletes with ties to Houston kept nervous watch, worrying about loved ones.
Consumed by feelings of helplessness and frustration, LSU starting right tackle Toby Weathersby said he filled his truck with gas with the intent of venturing into Houston to try to evacuate his grandparents. He held off -- but it was hard.
"I was going to be stupid, but I had to come to the realization that I've got to leave it up to the professionals," Weathersby said. "I just sat down and just thought about the situation I was going to be putting myself in. I wasn't worried about school or nothing. I was just worried about trying to get there, get my people."
Weathersby, a junior, said he'd been in contact with his grandparents on Sunday and their home had not flooded, though rising water had engulfed their vehicles.
"They're stuck right now in the flood. Water is almost in the house," said Weathersby, a 6-foot-6, 308-pound junior. "You try to stay positive but ... It's one of those situations right now where you've got to keep praying. Hopefully my prayers reach over to my grandparents so they can hear me right now trying to tell them to try to get out."
The flooding has forced other teams to relocate, too.
The Texans are also in the Dallas area, awaiting word on where their home preseason game against the Cowboys will be played as scheduled on Thursday night. Weathersby and his LSU teammates, along with those at BYU, are keeping close watch, with the two teams scheduled to play each other Saturday at the home of the Texans.
"Over the weekend and this morning, we've been in constant communication with ESPN and the folks over in Texas," LSU athletic director Joe Alleva said. "I am not prepared right now to tell you where the game's going to be. I do hope, though, by no later than (Tuesday), we will have a site where this game will be."
The Rice football was settling in on TCU's campus in Fort Worth. The Owls opened the season over the weekend in Australia, where they lost to Stanford. They arrived in Los Angeles on Monday morning before another flight to Dallas, and were expected to share the campus with the Horned Frogs until things improve in Houston. The Owls have a week off before traveling to play UTEP on Sept. 9.
"While we would love to be coming home today, our first responsibility is the safety of these players," coach David Bailiff said. "We learned some lessons in 2008 (during Hurricane Ike) about coming home too soon."
TCU coach Gary Patterson said there are still specifics to work out, but that the Horned Frogs will do whatever they can to help.
"They're worried about parents and their families back there, but then all their belongings and their apartments, and their housing," Patterson said. "It must have been a very tough feeling to be playing a ballgame all the way in Australia knowing that maybe everything that you own may be gone."
The University of Houston football team, meanwhile, is in Austin, where former coach Tom Herman is preparing for his first season in charge of the Longhorns after two seasons at Houston. He said the Cougars canceled their scheduled practice Sunday when the flooding was getting worse back in Houston, and "guys being worried and not really being focused on football, nor should they have been."
Houston coach Major Applewhite said he wasn't sure how long the team would remain in Austin, but that they'd been able to determine that the families of all players and staff back in Houston were safe.
"On this trip, our job is (to) be No. 1, parents, and No. 2, to be coaches," he said. "We have to understand the human element in this."
Teams and athletes got in on the fundraising efforts for what will undoubtedly be a long rebuilding process. The Texans and owner Bob McNair donated $1 million to the United Way of Greater Houston Flood Relief Fund. The NFL Foundation said it would match the $1 million donation, and New England Patriots owner Robert Kraft and his family pledged to match all funds donated to the American Red Cross in support of Harvey flood relief up to $1 million.
This came after Texans star J.J. Watt started a fundraising page that had raised more than $620,000 by Monday afternoon and Houston Rockets and owner Leslie Alexander donated $4 million to hurricane relief. Major League Baseball also contributed to the cause, joining with the players association to donate $1 million to the Red Cross and relief organizations chosen by the players.
------
AP Sports Writers Stephen Hawkins, Schuyler Dixon, Jim Vertuno and Brett Martel contributed to this report.