Baker Mayfield era begins in Tampa Bay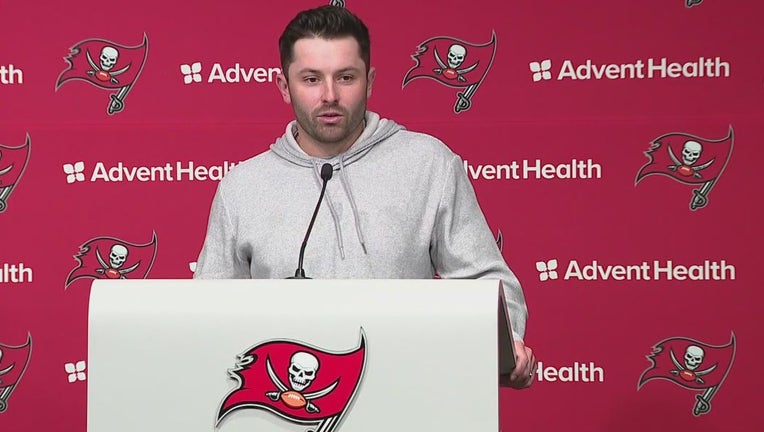 article
TAMPA, Fla. - Brash, cocky and confident is how Baker Mayfield came into the NFL, but he arrived at One Buc Place reserved, but still exuding confidence. 
The Tampa Bay Buccaneers are his fourth team in the last two years, and he said it hasn't humbled him, but he's learned from it.
"Yeah. I think that goes anytime you have life experiences, you can learn and grow from those," said Mayfield. "Just talking to some of the coaches around here and some of the staff, like I said, it's not how I drew my career up, by any means. If I were to tell you how it would go based on the plan, I wouldn't have said that I put on three different uniforms in the year 2022 – but that's how it happens. You've got to learn from it, roll with the punches, trust in God's plan."
RELATED: Tampa Bay Buccaneers sign QB Baker Mayfield as possible Tom Brady successor
Mayfield has heard the criticism thrown at him in his career. Immaturity, impulsive, doesn't have the personality to be a professional quarterback, but no matter what is said about him, he's not listening. He's still true to himself.
"I enjoy playing this game and my personality might rub people the wrong way, but I am who I am," said Mayfield. "That's how I was raised to be. I'm not trying to play to be your friend or to impress you – I'm doing it because I love it, and I'm doing it, because I love my teammates. I think all my teammates would say the same. Behind closed doors, they knew who I really am and that's what really matters between my family and trusting that. It is what it is – I'm not too worried about the outside persona."
Mayfield admits his career has not gone as he planned. He has seen a lot of changes during his five-year career, some good and some bad, but one change he won't make is his feisty approach to the game.
"That's what's so special about the quarterback position – you've got to know how to push people, you've got to know how to relate to them," said Mayfield. "If somebody needs a little kick in the butt then do that, or put your arm around them – everybody is different and that's what I love about it. My approach is to just dive headfirst and just go all in and enjoy the process."
MORE: Bucs' new offensive coordinator Dave Canales looks to install system in Tampa Bay
This is another fresh slate for Mayfield. An opportunity to resurrect a career that started with so much potential. 
The Bucs claim that he will compete against Kyle Trask for the starting job, but his experience gives him the edge. The Bucs also present the chance to stabilize his career, but with so many other chances at the age of 27, doesn't Mayfield think this is his last shot to prove he's a NFL starting quarterback?
"Not necessarily make or break," said Mayfield. "I view it as the start of my next chapter – whatever that might be. Whether it's for longer years to come here in Tampa or whatever it is – I'm building my resume. As Coach Canales said earlier, your film is your résumé. So how can I better my résumé this year, and how can I make sure that it's going to benefit my future? We'll see. I'm not in control of that. I think I've learned that over the first five years of my career – just do the best I can right now and see where it goes."