Bucs' new offensive coordinator Dave Canales looks to install system in Tampa Bay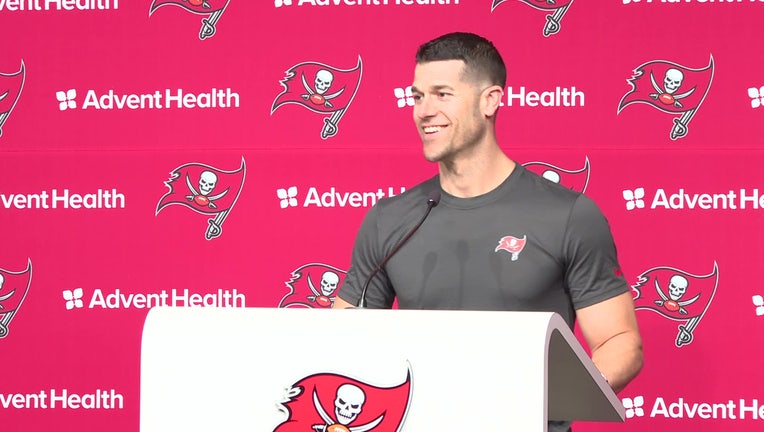 article
TAMPA, Fla. - A week after his hiring, Dave Canales was officially introduced as the Tampa Bay Buccaneers' new offensive coordinator on Wednesday. 
"I'm really excited to be here and excited to bring a new look to what we're doing," Canales said of joining the Bucs.
After spending the last 13 seasons with the Seattle Seahawks, serving in multiple roles on the offense, Canales is now looking forward to leading an offense of his own. 
READ: NFL Hall of Famer Ronde Barber prepping for Valspar Championship
"We're going to be a developmentally minded staff that is looking to develop player A to player Z," he said.
Granted, the Bucs' offense finished toward the bottom of the NFL in most categories last season – even with Tom Brady. 
Currently, however, Kyle Trask is the only quarterback under contract with the team, and Canales says the former second round pick is their man, right now. 
The system is the system, and it handles any type of real quarterback," Canales said. "The things we do will be in his wheelhouse." 
MORE: 'That's my legacy': Bay Area jeweler played key role in Buccaneers Super Bowl ring design
The caveat with Canales is, however, he has never been a player caller in pro football. 
"I called players way, way back," he joked. "I was a head JV coach in 2004-2005. That was really fun. I didn't answer to anybody, so we did all kinds of fun stuff."
Regardless, Canales says his offense won't be all about the playbook, per se. 
"Play calling is not the hardest part of this job. The hardest part of this job is creating a culture," he said. 
It's a culture, an offense and a system that Canales believes will lead to success on the field next season.