Baker Mayfield makes quick impression, impact as Bucs starting quarterback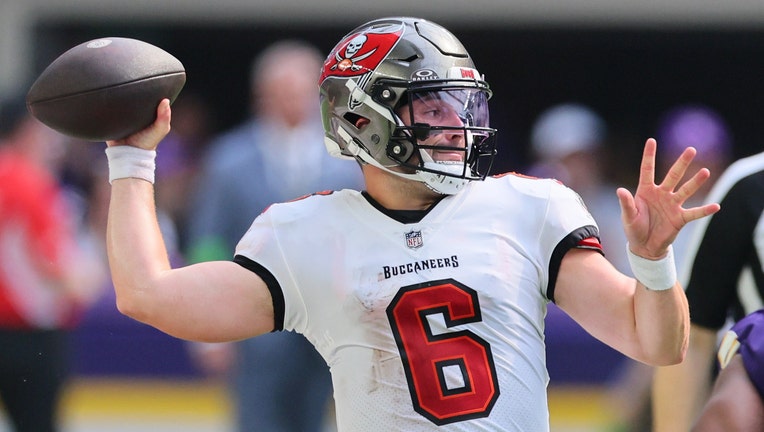 article
TAMPA, Fla. - Tampa Bay Buccaneers Head Coach Todd Bowles researched newly named starting quarterback Baker Mayfield coming out of college. What he didn't realize then is just how intelligent Mayfield is. 
What he saw on the opening week against the Minnesota Vikings is brains and brawn – a quarterback with an offensive lineman's mentality and a guy that Bowles said will stick his face in a fan.
"He plays very smart," said Bowles. "That doesn't mean he's a renegade by any means, it just means that he's willing to go the extra mile to put his face in the fan when the situation calls for it. Hopefully he doesn't have to do that too much where he can get banged up, but offensive linemen feed off of that – he becomes one of them. It's a rallying cry for the offense."
READ: Mike Williams, former NFL wide receiver, dies from injuries in construction accident
Mayfield's 5-yard run late in the fourth quarter led to the Bucs winning field goal, earning him the NFL's "Angry run of the week."
"I love football. It's the game of football, it's a physical game, I've always loved it," said Mayfield. "I love contact. You can't shy away from it – I think that's how you get hurt. Obviously, like I mentioned, playing quarterback is a little bit of a different story, so yeah, you definitely want to protect yourself. I just always want to be a part of the guys. There is something about that, just being involved and showing them that I like to get down and dirty with them, as well."
It didn't take long for Mayfield to show his teammates just how smart he is. Rachaad White revealed that by half-time against the Vikings, the starting quarterback had already deciphered the Vikings defensive hand signals. 
He explained them to his teammates inside the locker room at the break, but there is some discrepancy inside One Buc Place about how big of a factor it was in upsetting the Vikings.
RELATED: Buccaneers top Vikings 20-17 as Baker Mayfield finishes strong in season opener
"We're not suppose to talk about that," said Tristian Wirfs.
"I don't think we picked up on too many things," said Bowles. "It kind of got over-exaggerated."
"I would say it was a huge factor," said White. "He just came in, and we got together and owned it."
"When it comes down to that, you're always trying to find tendencies in the defense – just those in-game adjustments [where] you're trying to find those tendencies," said Mayfield. "Sometimes it's a little different than others."
One game in, and Mayfield has quickly made an imprint and a strong impression on this team.