Bengals pick off Winston 4 times for 37-34 win over Bucs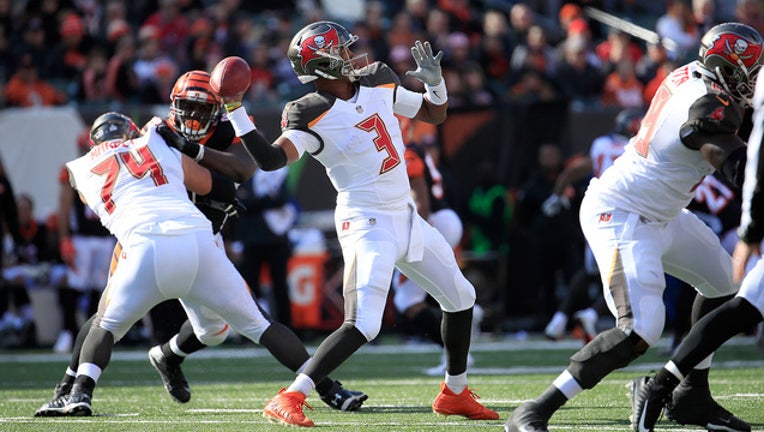 article
CINCINNATI (AP) - The Bengals had four interceptions, six sacks and a late 18-point lead. They needed all of it - and every last second on the clock as well - to salvage a win that was more relief than anything.
Jessie Bates returned Jameis Winston's fourth interception for a touchdown Sunday, and the Bengals overcame Ryan Fitzpatrick's late rally for a 37-34 victory that left the Tampa Bay Buccaneers with a question at quarterback.
The Bengals (5-3) put together their only drive of the second half to pull it out. Andy Dalton had completions of 23 and 9 yards to A.J. Green that got them in range for Randy Bullock's 44-yard field goal on the final play.
"A win is a win, but this one feels a little weird," Bengals linebacker Preston Brown said.
Weird all around.
Cincinnati was coming off a 45-10 loss at Kansas City on Sunday night that was their second-worst drubbing in coach Marvin Lewis' 16 seasons. The Bengals gave up 576 yards to the Bucs (3-4) and managed only 95 yards in the second half - 50 on the final drive.
"We're not very happy with how we performed," Bates said.
Tampa Bay's biggest problem earlier this season was its porous defense, which led to a change of coordinators. This time, their quarterback play was their downfall.
Winston opened the season on suspension for violating the NFL's personal conduct policy. He's had seven turnovers in the past two games, creating an opening for Fitzpatrick to reclaim the job that was his at season's start.
Winston was benched after matching his career high with four interceptions, the third time he's thrown so many in his career. He has thrown 10 interceptions, one fewer than all last season.
"I'm definitely the reason we came up short with this game, and I know that I have to fix it," said Winston, who was 18 of 35 for 276 yards with five sacks.
Winston went to the bench, and Fitzpatrick pulled Tampa Bay even.
He threw a 72-yard touchdown to Mike Evans , his fifth TD pass of at least 50 yards this season - most in the NFL. He also led an 88-yard drive to the tying score, hitting O.J. Howard for an 18-yard touchdown and completing another pass for the conversion with 1:05 left.
Fitzpatrick finished 11 of 15 for 194 yards and a passer rating of 154.9 that's just shy of perfect.
Now, the Bucs have to decide which one will lead the NFL's top-ranked offense.
"Today is not the day I need to decide that," coach Dirk Koetter said.
DeSean Jackson caught a 60-yard touchdown pass that moved him ahead of Jerry Rice for the NFL record. He has 24 TDs of at least 60 yards. It also was Jackson's 29th career TD of at least 50 yards , tying Randy Moss for second-most since the 1970 merger behind Rice's 36.
FAST START
Cincinnati couldn't hold a 27-6 lead set up by a big first half. Joe Mixon ran for 114 yards in the half and scored on runs of 1 and 8 yards. Tyler Boyd had six catches for 112 yards, including a 9-yard touchdown.
LOTS OF INTs
Winston has thrown at least two interceptions in five straight games, tied for the most since 1990. His 13 interceptions over that span are tied with Fitzpatrick for the most in a five-game stretch over the past five seasons.
LOTS OF EMPTY SEATS
The game drew 45,134 fans, the smallest crowd at Paul Brown Stadium since 41,273 showed up for a 23-16 win over Arizona on Dec. 24, 2011.
BLOWING IN THE WIND
Both kickers missed extra-point attempts in a gusty, swirling wind.
NO SAD SACK
Buccaneers end Jason Pierre-Paul had a pair of sacks. He's had at least one in six straight games, tying Simeon Rice for the most consecutive games with a sack in team history.
INJURIES
Buccaneers: RB Ronald Jones II suffered a hamstring injury in the second half.
Bengals: G Clint Boling hurt his back late in the first half. DE Carl Lawson hurt his right knee, reportedly an ACL tear. CB Dre Kirkpatrick left in the third quarter with an Achilles injury that kept him out of practice, but he returned.
UP NEXT
Buccaneers: Play at Carolina on Sunday, finishing a stretch of four road games out of five.
Bengals: Have their bye week, followed by a home game against the Saints.
___
More AP NFL: https://apnews.com/tag/NFL and https://twitter.com/AP_NFL