Biles wins floor exercise for record-tying 4th Olympic gold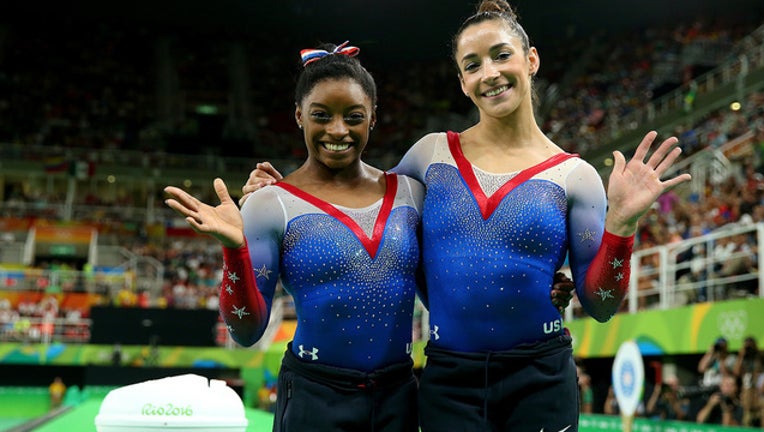 article
RIO DE JANEIRO (AP) - The Simone Show went out in style. And gold. Again.
Simone Biles put the finishing touches on one of the greatest Olympics by a gymnast, capturing her fourth gold of the games with an electric performance in the floor exercise on Tuesday.
The 19-year-old American completed an extraordinary stretch that included a team gold for the "Final Five" as well as individual golds in the all-around and vault and bronze on balance beam. Her five medals tie the most for an American female gymnast in a single Olympics and her four golds tie an Olympic record shared by four others.
"It's been a long journey," Biles said. "I've enjoyed every single moment of it. I know our team has. It's been very long in competing so many times. It got tiring. But we just wanted to end on a good note."
Biles embraced her longtime coach shortly after her routine — which includes a tumbling pass named in her honor and a Brazilian-themed segment intended to play to the crowd in Rio — and beamed when her score of 15.966 was posted.
Teammate Aly Raisman followed with a 15.500 to give her a third medal during Rio and six overall in her Olympic career. The 22-year-old team captain — who was second in the all-around to Biles last week — waved to the stands as she walked off the floor, likely for the final time as a competitor.
The medals gave the American women nine during the meet, the most ever by the U.S. at an Olympics.
Amy Tinkler of Great Britain earned bronze, though the day — and really the Olympics — belong to Biles. While she admitted she was a bit tired on Monday after her only one real mistake of the games — a wobbly landing on beam that cost her a shot at gold — Biles didn't look it during her signature event.
Buoyant in a glittery red, white and blue leotard, Biles spent 90 seconds showcasing her talent. She doesn't tumble so much as fly, her 4-foot-8 frame soaring over the white mat as if she was trying to touch the video board three stories above. She plans to take a break following the closing ceremonies and try to adjust to a life that will never be the same after nine days that elevated her from gymnastics' best-kept secret to star.
American Danell Leyva matched Biles and Raisman with a pair of medals of his own, taking silver on both the parallel bars and high bar. The triumph also served as a bit of redemption for Leyva, a bronze medalist in the all-around four years ago but who has struggled with his form recently. He was initially named an alternate to the Olympic team before filling in when John Orozco went down with an injury.
Leyva will leave Rio with the only two medals by the U.S. team. Teammate Sam Mikulak narrowly missed out on the podium by finishing a close fourth in the high bar final.
Oleg Verniaiev of Ukraine took gold on parallel bars, followed by Leyva and David Belyavskiy of Russia.
Fabian Hambuechen of Germany finally reached the top step of the podium in the Olympics by claiming the high bar title. A bronze medalist in Beijing and a silver medalist in London, Hambuechen's score of 15.766 was clear of Leyva's 15.500. Nile Wilson of Great Britain earned bronze.