Bolt wins gold, Gatlin wins silver in Olympic 100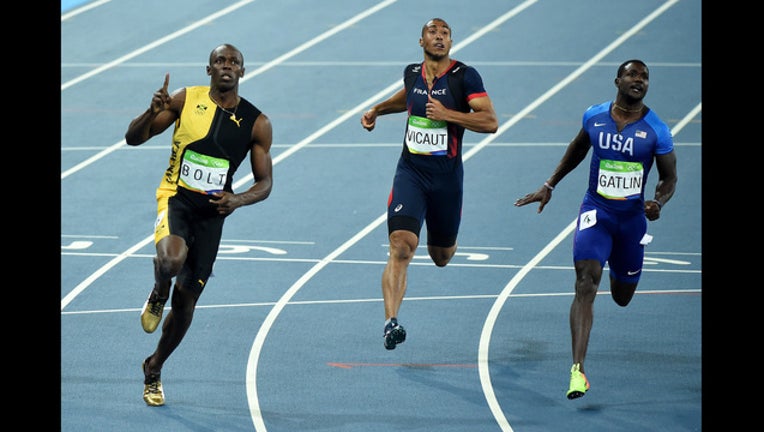 If there were any doubts, it took less than 10 seconds — 9.81, to be exact — for Usain Bolt to erase them.
He is the Olympic champion once again.
On a muggy Sunday night in Rio, the Jamaican superstar won the signature event in track and field in a runaway and added this line to his already gleaming resume: first person to capture three straight 100-meter titles at the Olympics.
Bolt beat American Justin Gatlin, who fans greeted with raucous boos, by .08 seconds. Andre de Grasse of Canada won the bronze.
He shoved Michael Phelps aside to take center stage for Week 2 of these troubled Rio Games.
He pushed his total to seven Olympic gold medals, with a chance for two more — in the 200 and 4x100 relay — later in the week.
Bolt wasn't the only one putting on a show.
A few minutes earlier, South Africa's Wayde van Niekerk eclipsed what many thought was the most-unbreakable record in the book — Michael Johnson's 17-year-old mark of 43.18 seconds in 400 meters. Running out of Lane 8, where the lag puts him well in front of the rest of the field, van Niekerk never saw a soul — crossing in 43.03 and only glancing to his left when he approached the line to peer at the clock, which showed him what he had done.
"Usain Bolt will be retiring soon, but this could be the next star of the sport," Johnson said during his commentary on BBC.
The current star? That guy named Bolt.
The 6-foot-5 sprinter/celebrity overcame his typically slow unfurling from the blocks — he was second-to-last after the break — then churned his legs to gradually build up speed. He caught Gatlin with about 40 meters left and was celebrating — pointing at his chest with his thumb — before he crossed the finish line.
After he crossed, Bolt raised the index finger, and then, the real party began.
A few minutes after the finish, Bolt was unlacing those now-famous gold spikes and taking selfies with the fans and the medalists from the heptathlon. He turned his yellow hat backward, kneeled down and gave the crowd what it really wanted. It's that famous, arching, "To the World" pose that he debuted eight years ago in Beijing.
Chants of "Bolt, Bolt, Bolt" rang out from the near-capacity stadium. Yes, the show lived up to its billing.
But this was not Bolt at his fastest. Four years ago, all three medalists broke 9.8. Nobody did this time.
It was not Bolt at his best. Some might argue his gutsy effort at last year's world championships, when he overcame a season's worth of injuries to beat Gatlin by .01, might have been the grittiest race he won.
But it certainly was Bolt at his most entertaining. It was a show from the time he came onto the track, arms to his side, asking for more applause, until 20 minutes after the race, when he was still working the crowd, posing for photos, making the troubled world of track feel fun again.
He turns 30 the day of the closing ceremony and has insisted his Olympic days are over.
"A true, true warrior of the sport," said Yohan Blake, the Jamaican who used to be his main rival. "To come back ... and win it three times. He is a one-of-a-kind sprinter. He really is."