Bolts make statement with 4-0 shutout of Boston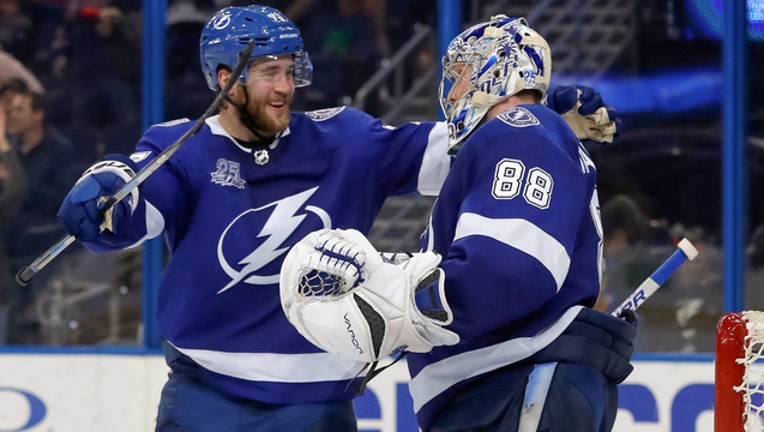 article
TAMPA (FOX 13) - The Tampa Bay Lightning made a strong statement showing the NHL world that they are still a Stanley Cup contender, even without their captain, Steven Stamkos, who is out with a lower-body-injury.
Going into a critical game against the Boston Bruins on Tuesday night, the Lightning had heard the talk of their demise.
"Lot of chatter had been in the media about validating us," said Ryan Callahan. "You know, getting this win to validate it, but we had confidence in here. That's two good teams. It's a bounce here. It's a bounce there. So we were worried about the two points more than mentally getting a win against Boston."
"The first two periods was some of the best hockey we played all year," said Victor Hedman. "In the third period we did a good job of shutting them down. That was a big shutout for us. Very happy with the way we played," he said.
The win moves the Lightning back into a tie for first with Boston keeping them alive for the division title. It also gives them their first victory against the Bruins, a team they could likely see in round two of the playoffs.
"Nobody wants to go through a season getting swept by anybody, especially somebody that you're fighting for a division title," coach Jon Cooper said. "But as I said before, the game before this set it up. I thought the first two times we played them, they kind of manhandled us a little bit. But they didn't the last time in their building. And to just continue on and say, 'OK, you know what, those first three periods are over with, let's get these next three.' And they just carried that on. Probably psyche-wise, good for the guys knowing that our work, our structure, all that stuff paid off. Hopefully, it just continues for us."
This was also a bounce back for Andrei Vasilevskiy, who had lost 5 of his last 7 starts. It's a record setting night for Vasilevskiy. He scored his first career win against the Bruins and broke the franchise record with his eighth shutout of the season.
"Feels good for him to get that franchise record too, and I'm very proud of him," said Hedman. "He's probably going to break it himself. He's a competitor and it showed up again."
The Lightning's biggest win of the season earns them they day off. They'll finish up the regular season with a home finale against Buffalo Friday night. Saturday they close out the season in Carolina.
"Right now we are trying to chase the division, still," said Callahan. "That was our approach coming in. We had to get this win to stay alive for the division. We go out there and get it."