Buccaneers' comeback falls short in 38-33 loss to Cardinals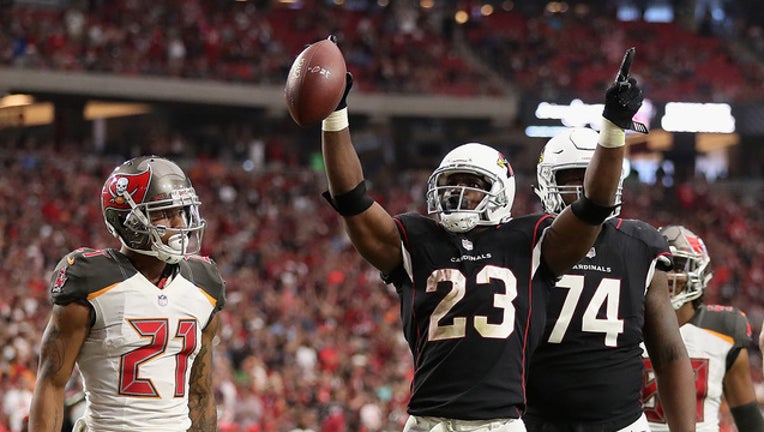 article
GLENDALE, Ariz. (AP) - The Tampa Bay Buccaneers fell into a big early hole, appearing as if they were headed toward another ugly loss at the hands of the Arizona Cardinals.
The Buccaneers managed to put together a second-half charge, but got the comeback going a bit too late to pull out a road victory.
Overmatched while falling into a 31-0 hole, Tampa Bay snapped to life under backup quarterback Ryan Fitzpatrick before falling 38-33 to the Cardinals on Sunday.
"You can't spot an NFL team 31 points and think you're going to come back. You can't spot an NFL team any points," Buccaneers coach Dick Koetter said. "It's disappointing, it's embarrassing, and it starts with me."
The Buccaneers (2-3) looked awful in the first half, allowing Carson Palmer to pick them apart and Adrian Peterson run right through them while falling into a 24-0 hole.
The Cardinals (3-3) went up 31-0 early in the third quarter on Palmer's third touchdown pass - 17 yards to John Brown - before the Buccaneers finally found a spark.
Fitzpatrick, forced into the game after Jameis Winston's right shoulder injury in the second quarter, revved Tampa Bay's offense into a rhythm in the second half, throwing a pair of touchdown passes.
After a pair of failed 2-point conversions, linebacker Lavonte David scooped up Larry Fitzgerald's fumble and returned it 21 yards for a touchdown. A successful 2-pointer pulled the Buccaneers with 31-20.
They had a chance. Then came Fitzpatrick's costliest mistake.
Trying to get the Buccaneers going from their 1-yard line, he threw a pass that Tramon Williams intercepted at the line of scrimmage. Peterson scored on the next play , putting Arizona up 18 points.
"We really had a chance, but I made too many mistakes - especially the big one that led to the seven points - to give the guys a chance to complete the comeback," said Fitzpatrick, who threw for 290 yards, three touchdowns and two interceptions on 22-of-32 passing.
Fitzpatrick kept the Buccaneers humming despite the interception, setting up Doug Martin's 1-yard touchdown run , then hitting Mike Evans on a 10-yard pass . Tampa Bay tried an onside kick, but Fitzgerald snagged it to help the Cardinals hold on.
The Buccaneers' early hole proved was just too big for them to finish the comeback.
Tampa Bay came into the desert with the NFL's third-worst defense in total yards, giving up 396.2 yards per game. The Cardinals and the newly acquired Peterson took advantage of the Buccaneers' deficiencies, carving them up a week after a lackluster loss to Philadelphia.
Peterson charged through massive holes created by Arizona's once-beleaguered offensive line, racking up 124 yards and two touchdowns . The Cardinals, the worst running team in the NFL, had 160 yards on 36 carries rushing, more than triple their average.
Palmer shook off a so-so performance against the Eagles by hitting his first 14 passes and finishing 18 of 22 for 283 yards and three touchdowns. Fitzgerald, his fellow ageless teammate, consistently founds seams in Tampa Bay's defense, catching 10 passes for 138 yards and a touchdown .
"We just came out a little flat and you can't do that in the NFL," Buccaneers cornerback Brent Grimes said. "You see what happens. We're down 31-0."
Winston did little before leaving with an injury to his throwing shoulder, completing 5 of 10 passes for 51 yards while the Buccaneers were outgained 303 to 168 yards in the first half. X-rays on his shoulder were negative and he will have an MRI to determine the extent of the injury.
Fitzpatrick immediately moved Tampa Bay down the field seeking a late score in the first half, but the Buccaneers decided to go on fourth-and-goal and came up short just before halftime.
They could have used the points.
Fitzpatrick hit DeSean Jackson on a 4-yard touchdown throw in the third quarter and Cameron Brate for a 10-yard score in the fourth.
Tampa Bay's defense tightened after Palmer's early third-quarter touchdown pass, scoring a touchdown of its own while giving the offense plenty of chances to move the ball.
It did, but Fitzpatrick's second interception, by Williams, all but put the game out of reach.
"There's obviously a couple of throws I'd like to have back," Fitzpatrick said. "But I'm proud of the guys for fighting back."
___
For more NFL coverage: http://www.pro32.ap.org and http://www.twitter.com/AP_NFL