Buccaneers confident of strong stretch run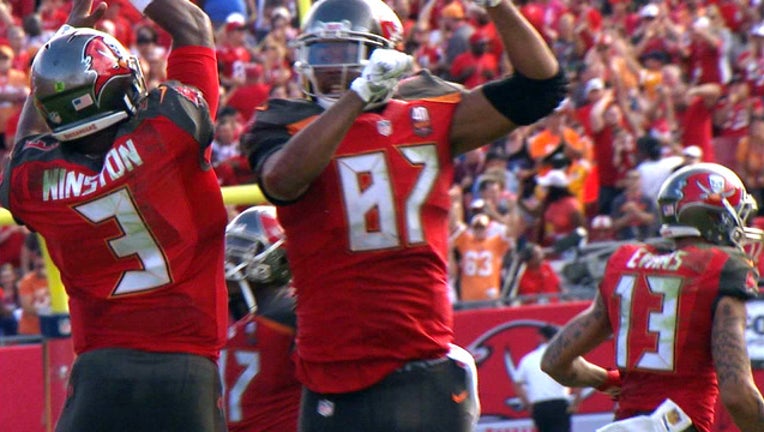 article
TAMPA, Fla. (AP) — Logan Mankins played nine seasons with Tom Brady, so he knows a little bit about the New England quarterback's competitive nature and will to win. The veteran offensive lineman sees some of the same qualities in rookie Jameis Winston, whose solid play has helped the improved Tampa Bay Buccaneers climb into playoff contention.
The No. 1 overall pick in this year's NFL draft led his third game-winning drive in six weeks Sunday, lifting the Bucs (6-6) over reeling NFC South rival Atlanta 23-19 and bolstering hopes for a strong stretch run.
"All that matters to Tom is winning, and that's what we get from Jameis," said Mankins, a six-time Pro Bowl selection who's in his second season with Tampa Bay. "He just wants to win, whether it's him handing off, or him scrambling, or him throwing a touchdown pass. Whatever it takes to win, they're going to do it."
The Bucs won two games a year ago and have now matched their victory total for the past two seasons combined. The latest enabled Tampa Bay to remain one game behind the Seattle Seahawks in the race for the final NFC wild-card spot.
Coach Lovie Smith believes the team needs to win its remaining four games to earn the franchise's first berth since 2007.
"That is the message for us. ... We don't shy away from that at all. In order for us to have a chance, we need to win out. Simple as that," Smith said.
"There's confidence we can, and with good reason. We've been saying for a while we're getting better, that we're a good football team," the coach added. "We haven't played our best always, but that's how life is in the NFL."
Coaches and teammates not only rave about Winston's work ethic, poise and leadership, but say his enthusiasm and positive attitude — on and off the field — are contagious.
"If you've got any doubt about this team, I don't see why. We're putting good stuff out on the field," tackle Demar Dotson said. "It's a four-game season left, and we've got one at a time. We've got to keep going, keep chomping at the bit. Nobody's got time to glorify themselves. We've got to keep fighting and stay hungry."
Dotson is in his seventh season with the Bucs. He's been on the team no longer than anyone else on the roster, and he's yet to be part of a team that's made the playoffs.
Winston said he's inspired by Dotson and other teammates, who endured the drought.
"The fun is just being able to come to work with my brothers, to see us fight. You look at the guys that were here last year, and when we get down, you look in their eyes and they're still like: 'We're about to win this game' because we believe," the rookie said. "And when you believe and when you have that want-to, and you have that mentality that you will always persevere, you're hard to beat."
Smith isn't surprised that the team's young quarterback has won over a locker room that has a strong veteran presence with players such as Mankins, Dotson, Gerald McCoy, Vincent Jackson, Lavonte David and Gosder Cherilus, who all speak highly of Winston.
"I think if you deserve respect as a young player, a veteran will give it to you," Smith said. "They don't go on what you come in saying, but they watch closely."
Ultimately, though, it has been Winston's ability to play well, particularly late in games, that's commanded unwavering support.
"There's so much we've gone through this year, and they're learning experiences. In the end you kind of judge — especially quarterbacks — on how do you play at the end of the game?" Smith said.
"He's on record now. And, of course, it's not just throwing. It's decision-making ... and if you need to run the football. He's done it all," the coach added. "Then there's his presence on the sideline. ... It gives everybody hope that whatever it'll take, we can pull it out."
___
AP NFL website: www.pro32.ap.org and http://twitter.com/AP_NFL