'It can go the other way': Lightning ready to end longest losing streak in nine seasons
TAMPA, Fla. - It's a slump that many players on the Tampa Bay Lightning have never been through. The Bolts have limped home on a five-game losing streak and eight defeats in their last 10 games. 
Jon Cooper hasn't remembered being defeated like this in the regular season in a long time – it's been nine years.
"Nine years, well there you go," said Cooper. "So it's been some time, which is a credit to the players in that room. You go nine years without going on a slide like this that's pretty darn impressive."
RELATED: Tampa Bay's Victor Hedman out for Philadelphia Flyers game following injury
The Captain Steven Stamkos is getting tired of talking about it, and he's ready to put this losing streak to rest.
"It's done it's over with now," said Stamkos. "These things happen in a course of a long season. As quick as it's gone this way, it can go the other way too."
Time is on the Lightning's side with 19 games still left in the regular season to fix what's wrong.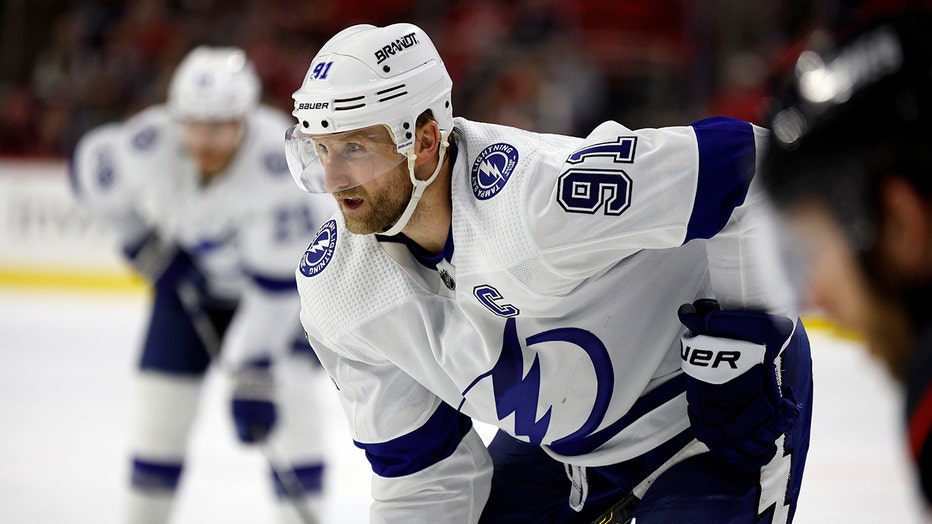 RALEIGH, NORTH CAROLINA - MARCH 05: Steven Stamkos #91 of the Tampa Bay Lightning prepares for the puck to drop during the third period of the game against the Carolina Hurricanes at PNC Arena on March 05, 2023 in Raleigh, North Carolina. (Photo by J
"Yeah absolutely," said Patrick Maroon. "When it comes down to it, we know what we are capable of, and we know how to play. When we play the way we are supposed to play we are a good hockey team. Right now, we are just in a little funk."
The losing streak coincides with the Lightning's two new additions. Tanner Jeanott and Mikey Eyssimont have yet to win since being traded to the Bolts. The Lightning players think it's just a coincidence.
READ: Teravainen's hat trick helps Canes rout Lightning 6-0
"Well I feel for them, because we haven't won since they've been here," said Cooper. "They're giving everything they have. It's a tough situation to go into when you go into an established team, and they're trying to find their way."
The Lightning also won't have defenseman Victor Hedman back for the game against the Flyers after he was injured Sunday. They will be getting defenseman Erik Cernak back, who has missed the last two games with a lower body injury. 
The Lightning do have an advantage playing at home where they've lost just five times this season. The second-fewest defeats in the NHL, but Jon Cooper isn't counting on that to help end the losing streak.
"That doesn't mean we're going to win tonight, but we do usually put our best foot forward," Cooper said.