Jon Gruden's name officially removed from Buccaneers' Ring of Honor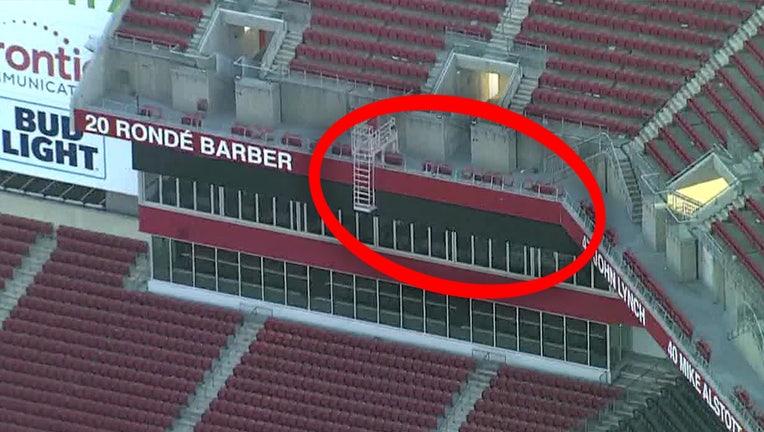 article
TAMPA, Fla. - Jon Gruden's name is no longer part of the Tampa Bay Buccaneers' Ring of Honor. The team's decision to expel him comes during the fallout of offensive emails that surfaced last week.
SkyFOX flew over Raymond James Stadium on Thursday morning. Gruden's name used to be located between Rondé Barber and John Lynch. Now, that spot is blank.
Gruden, the Las Vegas Raiders head coach who is also a familiar face around Tampa Bay, resigned Monday night after the string of messages – sent before being hired by Las Vegas in 2018 – were released. Last Friday, the Wall Street Journal reported that he'd used a racist term to describe NFL union chief DeMaurice Smith in a 2011 email to his friend and former general manager in Tampa, then-Washington executive Bruce Allen.
The team was then given additional emails on Friday that The New York Times reported Monday contained homophobic and misogynistic comments directed at Commissioner Roger Goodell and others in the NFL, including Bucs owner Bryan Glazer.
PREVIOUS: Tampa Bay Buccaneers expel Jon Gruden from Ring of Honor over offensive emails
The emails were discovered in a workplace misconduct investigation into the Washington Football Team but ended up costing Gruden his job when they also showed Gruden denounced the drafting of a gay player and the tolerance of players protesting during the playing of the national anthem among other issues.
Gruden apologized for his "insensitive remarks" about Smith, saying they were made out of frustration over the 2011 lockout. But the latest emails sent from between 2011-18 when Gruden was an analyst for ESPN show his use of derogatory language went well beyond that.
The Times reported that Gruden used a gay slur to insult Goodell and said he was "clueless" and "anti-football." He also said Goodell shouldn't have pressured the Rams to draft "queers," a reference to Michael Sam, who was the first openly gay player drafted by an NFL team.
Raiders defensive end Carl Nassib came out as gay in June and is the first openly gay player to appear in an NFL game.
In a 2017 email, the Times said Gruden responded to a sexist meme of a female official by saying: "Nice job roger."
On Tuesday, the Bucs released the following statement on Gruden:
"The Tampa Bay Buccaneers have advocated for purposeful change in the areas of race relations, gender equality, diversity and inclusion for many years. While we acknowledge Jon Gruden's contributions on the field, his actions go against our core values as an organization. Therefore, he will no longer continue to be a member of the Buccaneers Ring of Honor."
Gruden spent seven seasons coaching the Buccaneers. He led them to their first Super Bowl victory in 2003 and was inducted into the Ring of Honor in 2017.