Kevin Kiermaier back with the Tampa Spartans, but no longer as a Rays player
TAMPA, Fla. - Kevin Kiermaier has prepared for spring training the same way for the last eight years. During the winter K-K, as he's known, becomes an unofficial Spartan with The University of Tampa. 
For the first time in his Major League career, though, he's no longer comes to practice wearing his Tampa Bay Rays hat.
Kiermaier is feeling good where he's at after fully recovering from hip surgery and from his emotional departure from the Rays.
RELATED: Rays not ready to commit to St. Pete despite mayor choosing team's own plan to redevelop Tropicana Field site
"Now I have new hips and a little different body, I'm really excited to put it to the test," Kiermaier told FOX 13 Sports. "I'm ready for this long road ahead."
"I feel like myself again. I want to run. I want to get work, that's something I haven't had in the last couple years," Kiermaier said. "It was just too much pain doing things. Now, it just gives me a whole new fresh start. My mind is so much clear. I'm, ready. I'm ready to run."
The Rays decision not to pick up an option on his contract left Kiermaier a free agent and open to sign with a new team. The Toronto Blue Jays quickly came calling with a warm welcome north of the border.
"Around here, we play for a city, a community up there in Toronto you're playing for a country," said Kiermaier. "There's 40 million people up there. I think they're going to bring the best out of me. I care so much, and I always try to put the best product on the field. I've already been treated great, and I just want to give it back to them. Make 2023 the best year possible."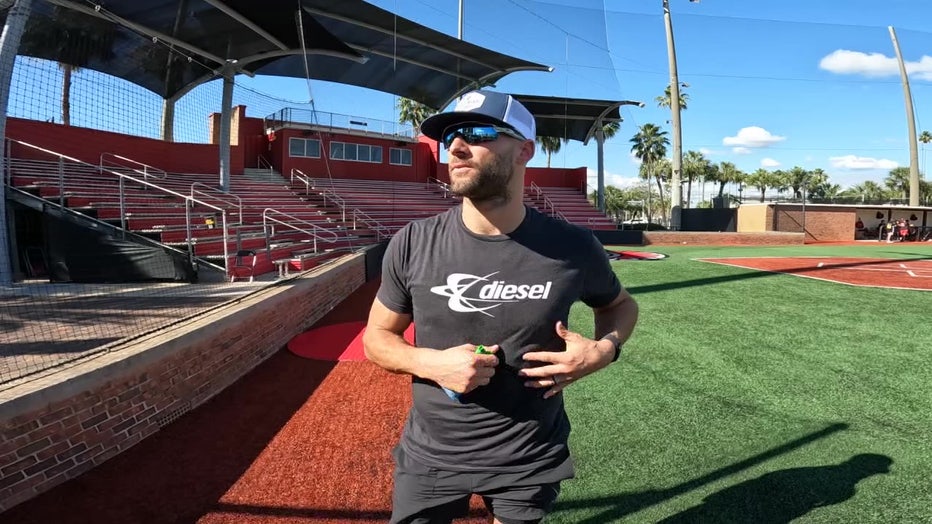 MORE: How will St. Petersburg pay for a new Tampa Bay Rays ballpark? It's still unclear, city says
It's a complete wardrobe change for Kiermaier for now, which includes a Toronto Maple Leafs sweater gifted to him at a game he took in Toronto.
"I'm a Blue Jay, I'm committed myself to the city of Toronto," said Kiermaier. "If they want to give me a hockey sweater and where it for a game up there I'm going to wear it. I'm going to do what I can to be part of the community and root for the teams around me as well. I'll always have love for the Tampa Bay Lightning as well. So please people don't get it twisted. It's just kind of how it is. This is my first time trying to do something else, and I'm just trying to adapt and do what is asked of me. I have a great opportunity ahead."
Kiermaier isn't sure how much longer his baseball career will go. He'd like to play for another two to three years. When he retires, his plan is to return to Tampa and break out his Rays gear and cheer on his old team as a fan.
Kiermaier also learned of the announcement on the Tropicana Field site redevelopment made Monday while he was in Tampa. Despite playing for smaller crowds at home while with the Tampa Bay Rays, he said he's always supported the effort to keep the team in Tampa Bay. 
He said the Rays organization is "near and dear" to his heart, and he doesn't want to see leave the region. 
"If St. Pete is what they decide then so be it, but if they want to come over here to Tampa at any point and try their luck over here, I'll fully support that decision," laughed Kiermaier.