Kucherov's late goal gives Lightning 4-3 win over Wings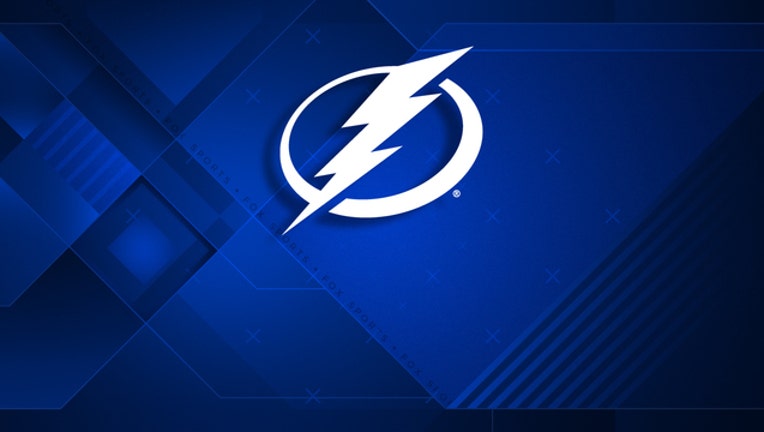 article
DETROIT (AP) — The Tampa Bay Lightning may be without star Steven Stamkos once again.
On the bright side, they're getting good at winning without him.
Nikita Kucherov scored his second goal of the game with 1:10 left, helping the Lightning beat the Detroit Red Wings 4-3 even after Stamkos left with a lower-body injury.
Stamkos scored early but then exited midway through the first period. He limped off the ice favoring his right leg following a collision with Detroit's Gustav Nyquist along the boards.
"He'll be evaluated again tomorrow," Lightning coach Jon Cooper said. "It's unfortunate that he couldn't come back, because he was helping us before he got hurt, but it is too early to speculate on anything right now."
Stamkos missed all but one game during the last postseason after having surgery for a blood clot April 4. Despite his absence, Tampa Bay advanced to the conference finals, where it lost in seven games to the Stanley Cup champion Pittsburgh Penguins. Stamkos returned for Game 7, a 2-1 loss.
This was Tampa Bay's second win in two nights after beating the New York Islanders 4-0 on Monday night.
Kucherov had three goals and an assist over the two games.
"This is huge for us," Kucherov said. "We just kept executing our game plan and it got us the goal we needed."
Defenseman Nikita Nesterov also scored for Tampa Bay, which has won five of eight (5-2-1). Vladislav Namestnikov had two assists and Ben Bishop made 25 saves.
Defenseman Ryan Sproul got his first career goal and had an assist, and Frans Nielsen and Henrik Zetterberg also scored for Detroit. Petr Mrazek stopped 18 shots.
"Well we got it close, but we need the points," Zetterberg said. "You can't keep losing games if you want to be a team battling for the playoffs."
Kucherov one-timed a shot past Mrazek from the inside edge of the left circle off a loose puck — a shot was blocked by Drew Miller and caromed right to Kucherov — for his eighth goal of the season.
"I just didn't see the puck coming from the blue line," Mrazek said. "I tried to find it, looking over the shoulder, slide a little bit there. We made a nice block but it went straight onto Kucherov's stick."
Sproul made it 3-2 with a power-play goal 7:12 into the third period, beating Bishop with a shot from the right circle.
Zetterberg tied it with a power-play goal nearly 2 1/2 minutes later as he put Anthony Mantha's behind-the-back, cross-crease pass into an empty net. It was Zetterberg's third goal.
Nesterov made it 3-1 with a power-play goal 1:29 into the third, beating Mrazek with a screened shot from the blue line in the middle of the ice. It was Nesterov's first goal and point of the season.
Kucherov opened the scoring 3:30 into the game, taking advantage of Mrazek's misplay of the puck behind the net by stuffing the puck in from the side for his seventh.
Stamkos made it 2-0 at 6:09 when he put in a rebound for his ninth.
Nielsen put Detroit on the scoreboard with 1:19 left in the first period. He beat Bishop with a backhand shot from the left circle for his third.
NOTE: Tampa Bay LW Jonathan Drouin missed his seventh game because of an upper-body injury and D Anton Strahlman missed his second game with an upper-body injury. ... Red Wings D Niklas Kronwall did not play because he was resting his knees. He has chronic knee issues and was replaced in the lineup by Sproul. . Detroit C Darren Helm left the game after a hit by Nesterov about five minutes into the third period. Red Wings coach Jeff Blashill said there will be an update on Helm on Wednesday,
UP NEXT
Lightning: At Buffalo on Thursday night.
Red Wings: At Washington on Friday night.