Lightning win 7th straight, end Blackhawks' 12-game streak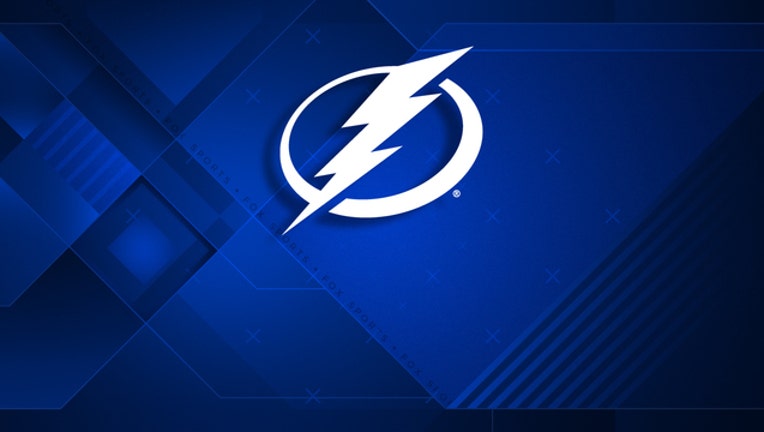 article
TAMPA, Fla. (AP) — Anton Stralman insisted the surging Tampa Bay Lightning didn't derive any extra satisfaction out of beating the Chicago Blackhawks to end a franchise-record 12-game winning streak for the defending Stanley Cup champions.
"No, not really," the veteran defenseman said after the Lightning extended a roll of their own to a season-best seven games with a 2-1 victory Thursday night. "It's all about our winning streak now."
Stralman's sixth goal of the season erased an early deficit and Nikita Kucherov snapped a second-period tie with his 20th goal for the Lightning, who will try to match the longest winning streak in club history Saturday night at Florida.
"This might have been our best game all season. We played for 60 minutes," Stralman said. "This is the way we want to play, obviously. This is how we can play."
Ben Bishop had 17 saves as the Blackhawks were held to a season-low 18 shots. Corey Crawford stopped 31 shots to keep the Blackhawks in the game, but it wasn't enough to extend a career-best nine-game winning streak for the Chicago goaltender.
"They were definitely the better team. We didn't generate much. We didn't get much traffic and pucks to the net and didn't get the offensive zone time we like," Blackhawks coach Joel Quenneville said. "We had a few shifts, but they were few and far between."
The victory gave Tampa Bay split of the season series with the Blackhawks, who won last year's Stanley Cup final against the Lightning in six games.
"That was a fun game. Obviously it brought back memories of last year," Lightning coach Jon Cooper said. "They are a really good team. We played extremely well to beat them. ... One streak was ending tonight and I'm glad it's theirs."
Stralman scored in the first period and Victor Hedman had two assists for Tampa Bay. Artem Anisimov scored Chicago's lone goal in the opening minute of the game.
"It's just one of those games, I guess," Crawford said, adding that Chicago didn't play that poorly. "We worked hard. It's just some things didn't go for us. ... That happens sometimes."
The Blackhawks went 0 for 3 on the power play and were held to the lowest shot total since taking 19 during a 2-1 overtime loss at Calgary on Nov. 20.
Tampa Bay, meanwhile, has its longest winning streak since the 2003-04 season that ended with the team winning its only Stanley Cup title. The Blackhawks won the first meeting between the teams this season, 1-0 on Jonathan Toews' goal 17 seconds into overtime.
This one started like it might be Chicago's night again.
Anisimov scored off a backhand pass from Patrick Kane just 43 seconds into the game, but the Blackhawks managed just three shots the remainder of the opening period — two of them in the final 5 seconds.
Kucherov's power play goal snapped a 1-1 tie with 3:11 left in the second period. It came after Chicago successfully killed Kane's penalty for high-sticking, only to give the Lightning another opportunity when their star was called for interference as he exited the penalty box and contacted the puck before getting both skates on the ice.
The go-ahead goal was the 20th goal of the season for Kucherov, tied with Steven Stamkos for the team lead. He has four in his last three games.
Both teams made news earlier in the day, with the Blackhawks trading Ryan Garbutt to Anaheim in exchange for Jiri Sekac and Lightning general manager Steve Yzerman addressing the suspension of disgruntled forward Jonathan Drouin, who failed to report for a minor league game the previous night.
Drouin, the third overall pick in the 2013, has asked to be traded. He's been slowed by injuries this season and was assigned to Syracuse of the AHL on Jan. 2, a move Yzerman at the time said was intended to give the 20-year-old an opportunity to play more.
Yzerman said there has been significant interest in Drouin, but that no deal was imminent. The GM added that he can't answer yet if the current situation will impact offers from other teams.
"Anything is possible," Yzerman said. "I told Jonathan and his agent that we will trade him if and when we can make a deal that's good for the Tampa Bay Lightning."
NOTES: Blackhawks LW Richard Panik did not play after oversleeping and reporting late to the team's morning skate. ... Bishop has allowed two or fewer goals in 22 of his last 27 starts. ... Chicago coach Joel Quenneville said Sekac could make his Blackhawks debut Friday, when the team continues its road trip at Florida. ... Kucherov has six goals and four assists during a seven-game point streak.