Quinton Flowers blooming with Bulls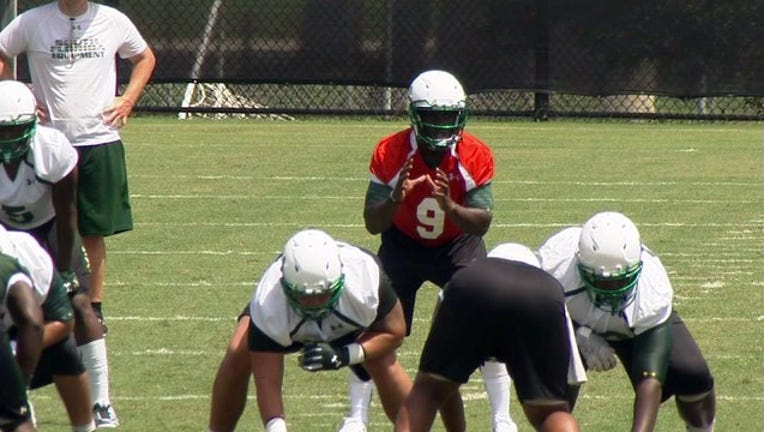 article
TAMPA (FOX 13) - USF quarterback Quinton Flowers is a survivor, in every sense of the word. His victory over Steven Bench to become the Bulls' starter pales in comparison to challenges he's had to overcome in his life. Personal tragedy has prepared him to lead the Bulls this season.
Flowers is at peace on the practice field, even during the heated battle with Bench this summer.
"It's a blessing to come out here every day," said Flowers. "Work with these guys and compete. [Coach Taggart] gave me the opportunity. It was either me or Steve. One of us was going to take it and just help each other in the back end or one person was just going to give in."
"Quinton is unique," said Taggart. "He can make guys miss. He can do some things that the average Joe can't do."
Flowers lives by the Bulls mantra 'Make No Excuses' despite the overwhelming tragedy in his life. His mom died of an illness his senior year in high school. His father was killed in a shooting when he was 7 and his brother was shot and murdered last year.
"The things that kid has been through, a lot of adults can't get through," said Taggart. "He comes out with a smile every day and a great attitude. He's been a great team player since he's been here and that's great to have."
"A lot of the guys don't understand what I went through in my life," said Flowers. "I just try to come every day to this facility, be on this campus and always have a smile on my face. I can't take my anger out on no one else. I can't do anything to anyone else because that's not me.
"I've always been a guy, [where] if something happens wrong, I can just stay in my zone and be thinking about the stuff that can make me happy. I can't get someone else to try to make me happy. I got to stay in my own zone."
Flowers has found his zone and is looking to bring balance to team in need of an offensive spark. He's a duel threat that can make defenses miss on the ground and he wants to prove he can beat them through the air.
"A lot of people, because they haven't seen him throw the ball, feel like he can't throw the football," said Taggart.  "The kid can throw the football and I think he's going to show that as well."
Flowers is ready for his latest challenge.
"I'm very prepared now," Flowers added.  I've been through a lot in my life. The only thing I can do is keep going."