Stralman, Lightning overcome Landeskog's hat trick for Avs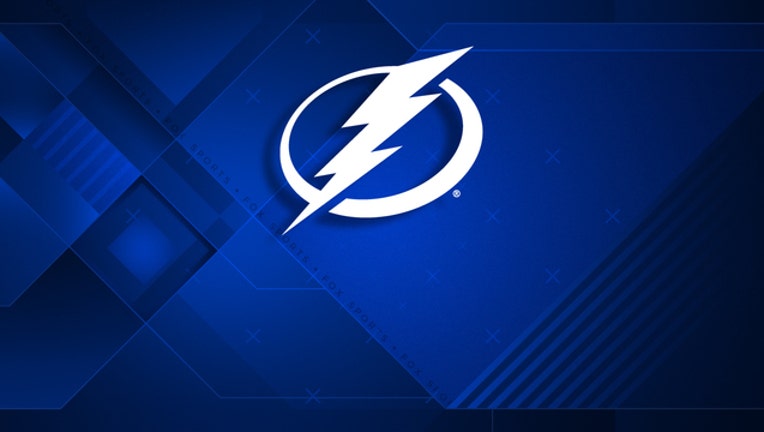 article
DENVER (AP) - The Tampa Bay Lightning got a timely offensive boost from its defensemen to keep their winning streak going.
Anton Stralman had two goals, and fellow defensemen Victor Hedman and Mikhail Sergachev also scored to help Tampa Bay beat the Colorado Avalanche 6-5 Saturday night for their seventh straight win.
"It was huge. We needed that tonight," Hedman said. "We want to create offense from our 'D' and tonight was a good example that we are getting involved in the offensive zone and capitalizing on opportunities."
Nikita Kucherov and Yanni Gourde had the other goals for the Lightning, who have two wins against the Avalanche during the streak.
Gabriel Landeskog had his second career hat trick and added two assists, and Nathan MacKinnon scored twice for Colorado, which nearly rallied after twice trailing by four goals.
"They came on strong at the end, put on a lot of pressure," said Tampa Bay goalie Peter Budaj, who finished with 32 saves against his former team, including several key stops in the late going. "This is a big win for us. It was back and forth and back and forth. But at the end, we came through."
Landeskog said the Avalanche showed fortitude in fighting back but also made some mistakes that prevented them from completing the comeback.
"We're here to play," he said. "We're not going to be pushed around and we're not going to give up on anybody. The most important thing is we showed it to ourselves tonight. The 4-on-4 goal, the (last Tampa Bay) goal, kind of ticks me off; it was missed coverage by me. If that doesn't happen, all of a sudden we got a tie hockey game. Nonetheless, it sends a strong message to us that we can come from behind."
Trailing 5-2, the Avalanche got within two on Landeskog's third goal of the night, a power-play score at 6:27 of the third in which he used his stick to change the direction of Tyson Barrie's slap shot past Budaj and into the net. Landeskog's third goal snapped Colorado's 0-for-20 streak on the power play, a drought that had spanned six games.
Colorado pulled to 5-4 when MacKinnon scored on a wrist shot at 9:22 of the third but Tampa Bay answered with a goal by Sergachev at 11:32, putting his stick on the puck amid heavy traffic in front of the goal and knocking it through Landeskog's legs and into the net.
MacKinnon scored again to pull the Avalanche within one again with 5:46 remaining. Colorado pulled the goalie for an extra skater for the last 90 seconds but couldn't tie it.
After a scoreless first period Tampa Bay got four gaols in the second period, including the first two 19 seconds apart.
Kucherov started the flurry at 9:11, gathering in a lead pass from Hedman and skating between the circles before lifting a shot over goalie Jonathan Bernier's stick-side and into the net.
At 9:30, Stralman corraled a loose puck in front of the net by going airborne over the fallen Jonathan Bernier and tapping the puck into an empty net.
The Lightning made it 3-0 at 11:22 of the second on a goal by Hedman, who hit a backhander past Bernier, and added another by Gourde at 13:21 to cap the outburst that covered a span of 4:10.
The Avalanche got on the board with 5:44 left in the middle period when Landeskog finished off a breakaway with his 11th of the season, beating Budaj with a wrist shot over his glove side.
The Avs missed a chance to score later in the second when Hedman used his hand to swat away a loose puck in the crease after it trickled away from Budaj, who had saved a shot from MacKinnon.
Tampa Bay went up 5-1 on Stralman's second goal of the night at 2:29 of the third. Landeskog got his second of the night when he deflected in a shot from the slot by Barrie at 4:58.
NOTES: Lightning F Ryan Callahan is out indefinitely with an upper-body injury suffered Thursday at Phoenix. ... Avalanche C Alexander Kerfoot remains sidelined by a foot injury. He has missed three straight games. ... Colorado D Erik Johnson drew a five-minute major and a game misconduct for boarding Vladislav Namestnikov at 15:57 of the second. ... Landeskog had his first career hat trick on Nov. 16 against Washington. He's the first Avs player to have two hat tricks in a season since Milan Hejduk in 2006-07. ... The Lightning's 12-1-0 record against Western Conference teams is the best by an East team.
UP NEXT
Tampa Bay: At Vegas on Tuesday night to wrap up a four-game trip.
Colorado: Host Pittsburgh on Monday night to close a three-game homestand.