Shaq Barrett dazzles in Buccaneers victory, dedicates game-changing pick-six to late daughter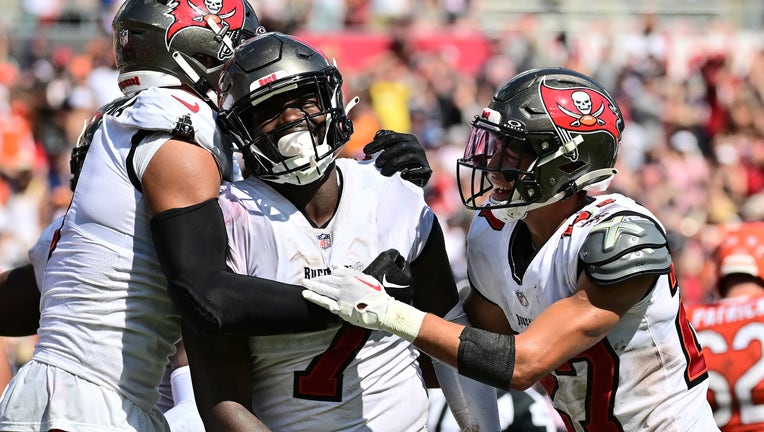 article
TAMPA, Fla. - Shaq Barrett is back. 
The venerated linebacker is back from a torn Achilles tendon, and he's playing for his daughter that he lost in a drowning incident during the offseason. 
He sealed a win over the Bears on Sunday with his first career touchdown in the form of a pick-six and quickly paid tribute to his late daughter, Arrayah.
"Camera was on me after I made the play, I told her, 'I love you, miss you, wish she was here,'" said Barrett. "So, I'm glad I'm able to still get some spotlight for her and to the Lord above because he's the reason why we're here right now and just trust in his plan, and no matter what it is, it works for good."
READ MORE: Buccaneers win home opener 27-17 over Chicago Bears on sparkling Baker Mayfield performance
The Buccaneers defeated the Bears 27-17 in their first game at Raymond James Stadium on Sunday to jump to 2-0 on the young season. 
Head Coach Todd Bowles spoke to the magnitude of the moment for Barrett. 
"It's unbelievable, Bowles said. "You can't even fathom going through something like that. To see him go through it and come out on the other side – I am sure he still has days, but to play like he is playing right now, to be where he is right now, it's unbelievable."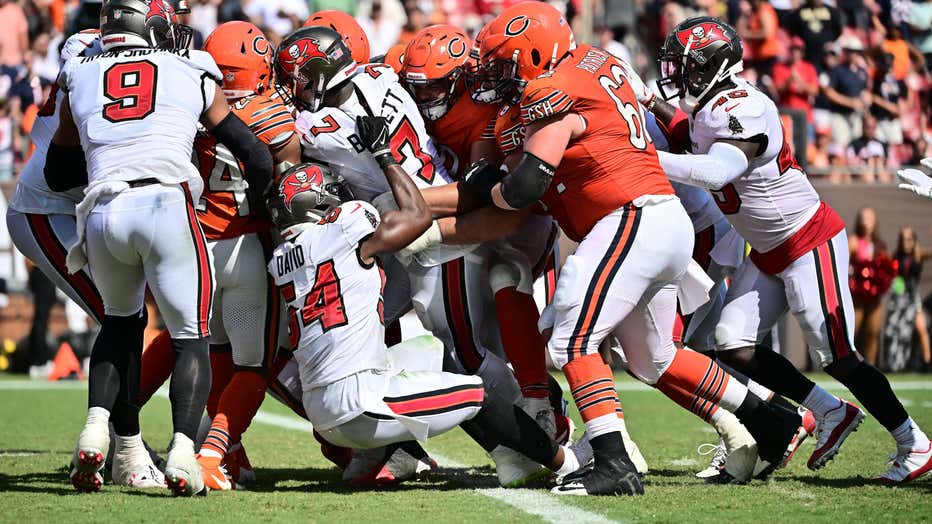 TAMPA, FLORIDA - SEPTEMBER 17: Shaquil Barrett #7 of the Tampa Bay Buccaneers returns an interception for a touchdown during the fourth quarter against the Chicago Bears at Raymond James Stadium on September 17, 2023 in Tampa, Florida. (Photo by Juli
Shaq's teammates couldn't be happier for him given the tumultuous year he's been through. 
He missed half of the 2022 season with injury, leaving a void on the field that couldn't be replaced. On top of his first career interception for a touchdown, Shaq had a sack, two tackles and a pass defensed, but it's his game-changing play that won't be forgotten.
"It feels good to be back on the play making side of things, said Barrett. "I know even if I was making plays - all the work I put [in] the off-season during rehab and all that felt good, and I knew I was back."
The Bucs' 2-0 start marks the third straight year they've accomplished that feat, and their defense is leading the way thus far. 
"I was so happy for him to get that pick with everything he's gone through, said Offensive Tackle Tristan Wirfs. "His injury. His family stuff. It's just huge and it's so great having him back."
TAMPA SPORTS: Rays clinch 5th straight playoff berth despite loss to Orioles
Shaq wasn't alone in wrecking the Bears offense. Joe Tryon-Shoyinka had his first two-sack game since his rookie season on Sunday.
"Just finishing when I'm in the vicinity, said Tryon-Shoyinka . "That's a great feeling. We were hitting [Justin Fields] all game, just being able to get him down. He's a mobile quarterback and a pretty strong dude. It was a pretty fun job today."
The Bucs have a lot of dynamic playmakers on defense, and rookie Christian Izien is certainly one of them. On Sunday, Izien became just the fourth undrafted player in NFL history to start his career with an interception in each of his first two games.
"It's just a blessing. I give all the glory to God," Izien said. "I call my Grandmother before every game. She gives me a specific blessing. Just go out there and things will go my way."