Tortorella, Marshall weigh in on national anthem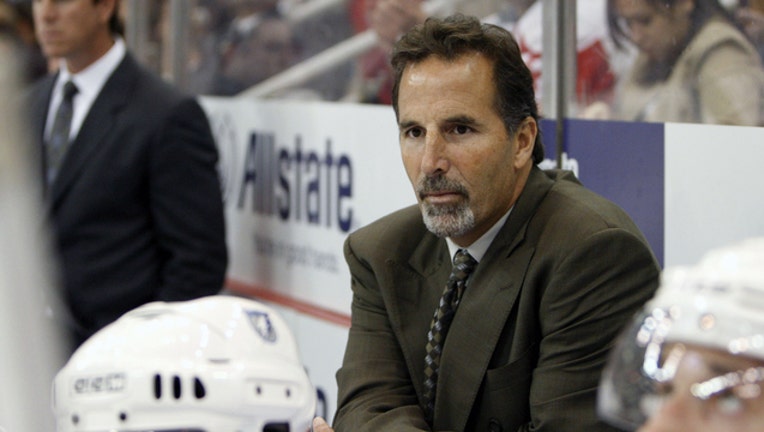 article
U.S. hockey coach John Tortorella says he'd bench any player who stays seated during the national anthem, while New York Jets receiver Brandon Marshall is defending Colin Kaepernick for his protest against racial injustice and minority oppression.
Kaepernick is protesting by choosing not to stand for the anthem. The San Francisco quarterback's stance came to light when he wouldn't stand before preseason games recently, a decision that has drawn strong reactions — positive and negative — throughout the sports world.
Tortorella, who will coach the United States at the upcoming World Cup of Hockey, told ESPN : "If any of my players sit on the bench for the national anthem, they will sit there the rest of the game."
Tortorella also coaches the Columbus Blue Jackets.
Marshall spoke out Tuesday on WFAN , saying he disagreed with host Boomer Esiason, who had criticized Kaepernick.
"The only thing I would love for everyone to really think about is: What does the American flag mean to them? When I look at the American flag, I see a bunch of fights — how much we have overcome," Marshall said.
Marshall said he'd stand for the national anthem this weekend, but he didn't criticize Kaepernick's actions.
"I think President Obama said it best, and I think a lot of guys said it: That's his constitutional right. That's Colin's right and that's all the other guys' right. But I do think that this is very thought provoking," Marshall said. "I think that the message was a little diluted because of how much respect a lot of us have for those who have served and done great things for us, and fought for our freedoms. But the message was clear.
"For me, I think that everybody, not just black, but black and white players, Spanish players, we may have one or two Asian players in the league, I think everyone should really be thinking about their place in this new civil rights movement."