USF remains undefeated after 33-3 win against Cincinnati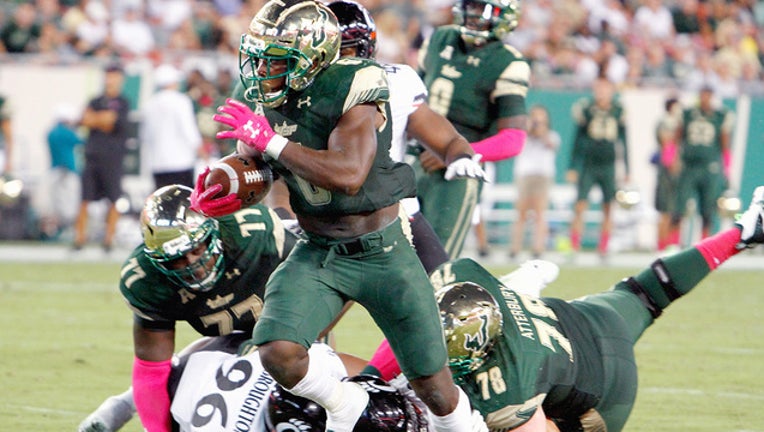 article
TAMPA (FOX 13) - Quinton Flowers eclipsed 3,000 yards career rushing and scored one touchdown Saturday night to help No. 18 South Florida extend the nation's longest winning streak to 11 games with a 33-3 victory over Cincinnati.
The dual-threat quarterback also set up a TD with a long completion to Temi Alaka and linebacker Auggie Sanchez scored on a 65-yard interception on the final play of the first half for the Bulls (6-0, 3-0 American Athletic Conference), who've matched the best start in school history.
USF also began 6-0 in 2007, climbing to a No. 2 ranking in The Associated Press Poll before plummeting out of the national spotlight with three consecutive losses.
The Bulls scored at least 30 points in a game for the 23rd consecutive game, tying the longest such stretch in college football since 1936. Oregon did it during the 2011 and 2012 seasons, while USF's streak began in 2015.
Cincinnati (2-5, 0-3), blown out by a Florida team ranked in the Top 25 for the second straight week, has lost seven straight AAC games dating to last season.
The Bearcats were trounced at home the previous week by UCF, which is tied with USF for first place in the league's East Division.
Flowers scored on a 1-yard run in the third and finished with a team-high 80 yards rushing on 15 attempts. In addition to increasing his career rushing total to 3,069, the senior completed 16 of 29 for 184 yards.
Cincinnati's defense played considerably better than the previous week when UCF's McKenzie Milton threw for five TDs and the Bearcats yielded 515 yards and 51 points in just three quarters.
With USF coming off putting up 61 against East Carolina and ranking 10th nationally in total offense at more than 500 yards per game, it was difficult to imagine the struggling Bearcats faring much better against the Bulls.
Flowers, however, had difficulty finishing drives early, with the Bulls settling for first-half field goals of 38, 28 and 21 yards before Darius Tice scored on an 11-yard run to hike USF's lead to 16-3 with 2:24 remaining in the opening half.
Cincinnati dug a deeper hole when Moore -- on an untimed down awarded because USF was penalized for being offside on what should have been the final play of the half -- was way off the mark on the pass Sanchez picked off and returned for his TD.
The Bearcats avoided a shutout with a 30-yard field goal by Ryan Jones, who also missed a 39-yarder with the Bearcats trailing 5-3 in the second quarter.
THE TAKEAWAY
Cincinnati: The Bearcats continue to hurt themselves with penalties and costly turnovers. They were flagged seven times in the opening half and finished with 11 penalties for 98 yards. Moore's fumble late in the third quarter led to a field goal that made it 33-3.
South Florida: The Bulls, who've never won a conference title in any of the three leagues they've been a part of, are building confidence by the victory. They are 16-3 in AAC games over the past three seasons and have seven straight conference games dating to last season.
HELP NEEDED
Moore accounted for most of Cincinnati's offense in last week's loss to UCF, throwing for 278 yards and one TD while also rushing for a career-best 75 yards and two TDs. The Bearcats relied heavily on him again, with the junior quarterback finishing 16 of 28 passing for 147 yards and one interception before being replaced by backup Ross Trail in the fourth quarter.
UP NEXT
Cincinnati: Returns home to face SMU next Saturday.
South Florida: On road next Saturday night at Tulane.
------
More AP college football: www.collegefootball.ap.org and https://twitter.com/AP--Top25.