What's next for Lightning's Steve Stamkos — retirement or more records?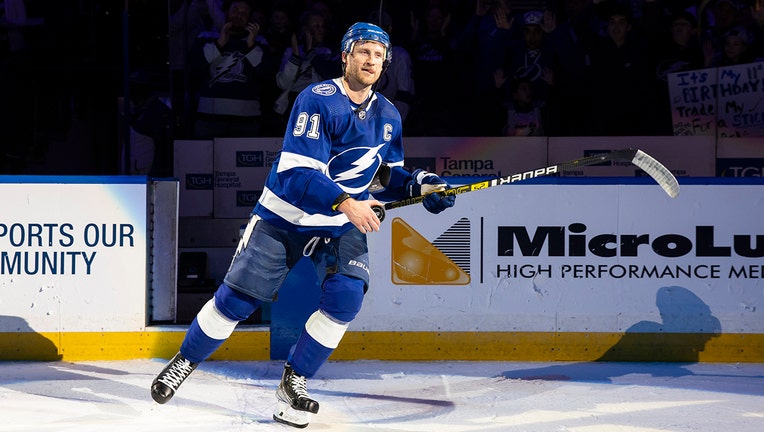 article
TAMPA, Fla. - It's a milestone moment 15 years in the making, but for the Tampa Bay Lightning's Steve Stamkos, it's been a grind. 
He's overcome serious injuries that have cost him nearly two seasons worth of games. It makes the achievement of reaching 500 goals even more amazing. 
Stamkos is one of just 47 players to do it in NHL history. The list is even shorter for those that have done it with one team — just 23 players.
"When you have some individual milestones, like the ones I've been fortunate to have this year, it almost forces you to reflect back on the journey that has got you here," said Stamkos. "The people that have helped you to get there, you're family."
READ: Brandon Hagel becomes rising star with Tampa Bay Lightning
The only disappointment for Stamkos is that he didn't get to celebrate the 500-goal milestone or the 1,000 point mark he reached last month in front of the hometown fans. Both came on the road, but his teammates made sure they saluted and paid tribute to their captain.
"I'm not sure, I don't think I can say how we celebrated," laughed the Lightning's Ross Colton. "I think we had a little team bonding obvious much deserved."
Stamkos has done more that enough to see his name raised alongside Marty St. Louis and Vinny Lecavalier at Amalie Arena when he retires. But among the three major milestones that he's reached in the last nine months, which one is he most proud of?
"If I had to choose between 1,000 points and 500 goals, 500 goals is probably ranked a little higher," said Stamkos.
Stamkos's resume includes 15 franchise records and three major milestones. More than enough to ensure enshrinement into the NHL Hall of Fame, but the book on Stamkos isn't finished. He's not even contemplating retirement. So what's next to check off on his list?
"I want to play as long as I can," said Stamkos. "As long as the body and mind are there and however many goals it ends up being we'll see, but usually when you get over 100, you're on to the next hundred, right? So that's kind of been my mindset."