Winston's Buccaneers teammates talk about QB's suspension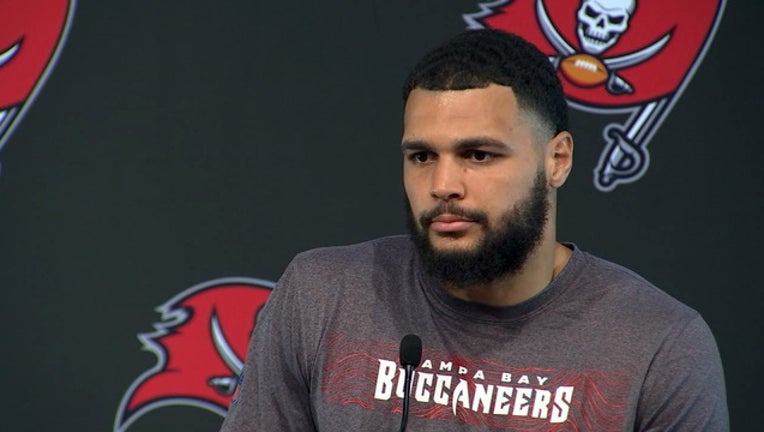 article
TAMPA, Fla. (AP) - Jameis Winston's three-game suspension for violating the NFL's personal conduct policy predictably was a hot topic of discussion when the Tampa Bay Buccaneers reported for training camp.
That is, except for the quarterback himself.
The fourth-year pro, who'll miss the start to a season in which the Bucs are hoping to end a decade-long playoff drought, was not among three players the team made available for interviews Wednesday at One Buccaneer Place.
Instead, Winston and coach Dirk Koetter are scheduled to speak publicly about the suspension for the first time after practice Thursday.
Meanwhile, teammates Lavonte David, Mike Evans and Ali Marpet expressed support for the 24-year-old quarterback, who was disciplined after the league's investigated an accusation that Winston groped a female Uber driver during a ride in Scottsdale, Arizona, in March 2016.
David said Winston, who was drafted No. 1 overall in 2015 despite questions about his behavior in college at Florida State, made a "silly mistake back in the day" but that the 2013 Heisman Trophy winner isn't a bad person.
"He knows what he's done. He's going to learn from it because from whenever it happened to now, he's matured a lot," David said, adding Winston is engaged to be married to his long-time girlfriend and recently became a father.
"It happened a long time ago. It was a bad decision by him," the linebacker, entering his seventh pro season, said. "I'm 100 percent sure he's learned from it."
The NFL concluded Winston violated the league's personal conduct policy by touching the Uber driver "in an inappropriate and sexual manner without her consent."
The quarterback apologized for the incident in a statement released on Facebook last month, but has not spoken publicly about it since the NFL announced its findings.
During his college career at Florida State, a fellow student said Winston raped her but he was never charged.
The university settled a Title IX lawsuit over its handling of the allegations with Winston's accuser, Erica Kinsman, in January 2016 for $1.7 million.
Evans said Winston is "one of my best friends." And while the receiver added "obviously I was hurt by" what happened, he reiterated he remains supportive and is confident backup quarterback Ryan Fitzpatrick can help the Bucs stay afloat during the suspension.
Tampa Bay has missed the playoffs 10 consecutive season and hasn't won a postseason game since the club's 2002 Super Bowl run.
Marpet, an offensive lineman who was part of Winston's draft class, said he learned of the suspension from the quarterback himself.
"We talked, and his mindset is how can he be the best teammate moving forward. I think he's doing that. We all support him. We're one family," the fourth-year guard said.
"For the first three games, we'll have a different quarterback," Marpet added. "But again, I think we'll do a really nice job. We believe in Fitzy, and there are a lot of other talented players that can step up."
___
For more NFL coverage: http://www.pro32.ap.org and http://www.twitter.com/AP_NFL