'Food for Florida' disaster assistance program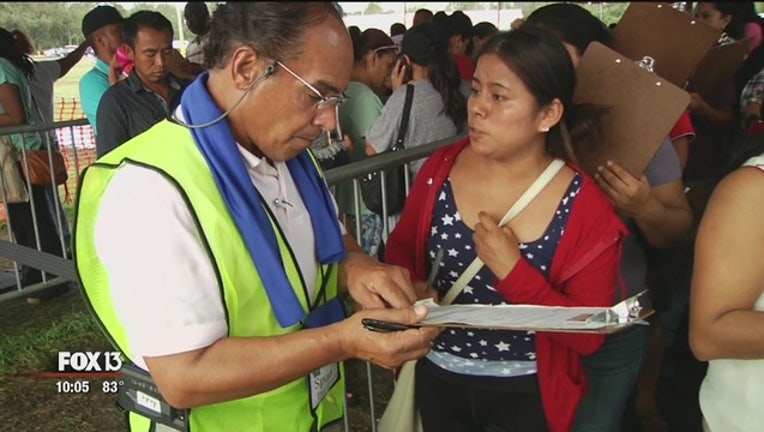 article
(FOX 13) - Hurricane Irma didn't just make a mess in the Bay Area when it made landfall more than a month ago. The storm also knocked out power in some areas for weeks. Many families had to throw out food or miss work, and paychecks. They are still struggling to recover.
Thanks to DCF and USDA, financial relief has arrived, but lines are long. Thousands came out to apply for the 'Food for Florida' food assistance program, designed to help families who wouldn't normally qualify for food stamps, but whose bank accounts were hit hard by Irma.
Qualifying families are eligible for hundreds of dollars in food stamps.
"It depends on their particular situation and their disaster-related expenses," explained Nichole Solomon, regional program manager for Florida Department of Children and Families. "Many people have different kinds of disaster expenses depending on whether they evacuated, whether their place of employment was shut down. It's different for everyone so I would suggest to anyone who is not already a food assistance recipient and who incurred losses during the hurricane to apply for these benefits."
Applicants should bring a photo ID and should also be prepared to potentially encounter long lines. Comfortable clothing and shoes are highly recommended.
DCF says lines may close prior to 6 p.m., based on time to process those already in line.
BEFORE YOU GO: To cut down on wait time, you should pre-register online at www.myflfamilies.com.
The Food for Florida Disaster Food Assistance Program will take place locally at the following sites:
CHARLOTTE COUNTY
October 28 - 30
Charlotte Sports Park, 2300 El Jobean Road, Port Charlotte
PASCO COUNTY
November 5 - 8
Pasco County Fairgrounds, 36722 State Road 52, Dade City
Site locations have already come and gone in other Bay Area counties.
As of October 19, DCF shared these statistics on the number of applicants helped:
Hillsborough - 207,674 individuals issued benefits
Duval - 184,827 individuals issued benefits
St. Lucie - 129,482 individuals issued benefits
Osceola - 125,910 individuals issued benefits
Brevard - 121,185 individuals issued benefits
Volusia - 116,215 individuals issued benefits
Pinellas - 108,546 individuals issued benefits