Tropical Storm Watch issued for Florida Keys; state still in storm's uncertain path
TAMPA, Fla. - A Tropical Storm Watch is now in effect for portions of the Florida Keys as Tropical Storm Elsa, which was downgraded from a hurricane late Saturday morning, makes its way toward the state. 
According to the National Hurricane Center, the Keys and the southern portion of the state may see tropical storm conditions, storm surge and rainfall beginning Monday. However, there is still a lot of uncertainty surrounding Elsa due to the impact Hispaniola and Cuba will have on the storm. 
As of Saturday night, Elsa's winds were down to 65 mph and it was moving west-northwest toward Cuba at 17 mph – much slower than earlier in the day.  
Florida Governor Ron DeSantis declared a state of emergency Saturday morning ahead of Tropical Storm Elsa. The state of emergency is in effect for Charlotte, Citrus, Collier, DeSoto, Hardee, Hernando, Hillsborough, Lee, Levy, Manatee, Miami-Dade, Monroe, Pasco, Pinellas and Sarasota Counties.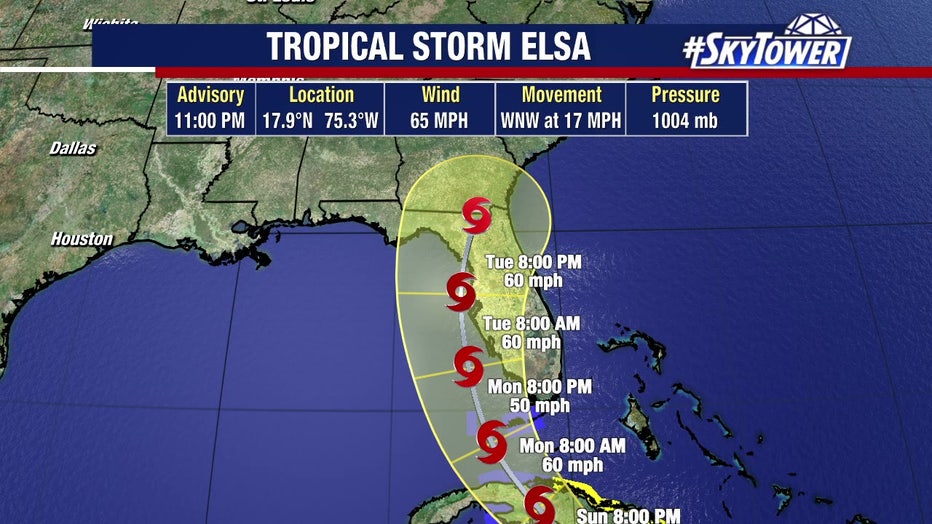 LINK: Track Tropical Storm Elsa on MyFoxHurricane.com
FOX 13's meteorologist Tyler Eliasen says it is possible the Bay Area will see rain, wind and storm surge from Elsa early next week. However, there are still a lot of questions and uncertainty regarding Elsa's path and strength.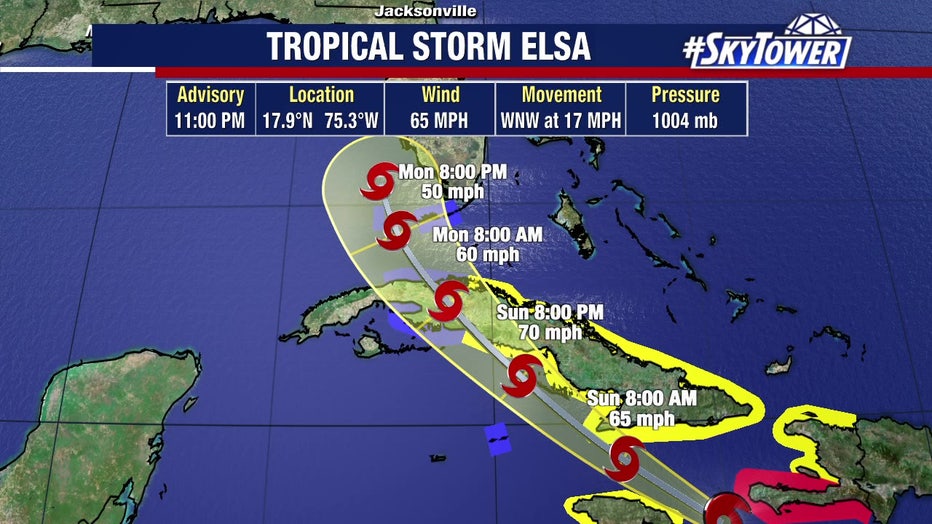 Eliasen says the Elsa looks ragged because it was moving so fast that it was causing its own wind shear. He added that it also went over land, which led it to weaken and become more disorganized.  
Eliasen says how the storm navigates over Cuba will determine whether or not it falls apart or regains strength. He says if Elsa enters the southeastern Gulf as a strong tropical storm it will likely regain strength and reorganize. However, if it is shredded apart over the island before it moves into the Gulf, there is little chance it will reform or strengthen.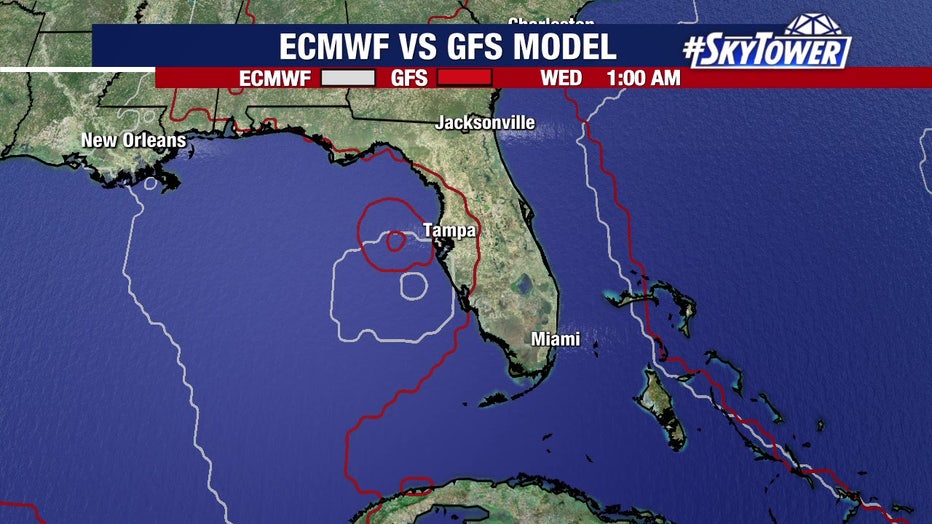 There is still a lot of disagreement among the forecast models about where Elsa will go after that. Saturday, the models were trending more west, which puts Florida on the eastern side – or dirty side – of the storm.
"What we don't want to be is on the eastern side of the storm. That gives us more of the impacts of wind and rain," FOX 13 Meteorologist Tony Sadiku noted.
STAY CONNECTED: Download the free FOX 13 News app for Live SkyTower Radar, forecast videos, and more weather coverage