TECO: 70% of customers may lose power; rolling blackouts possible as Irma nears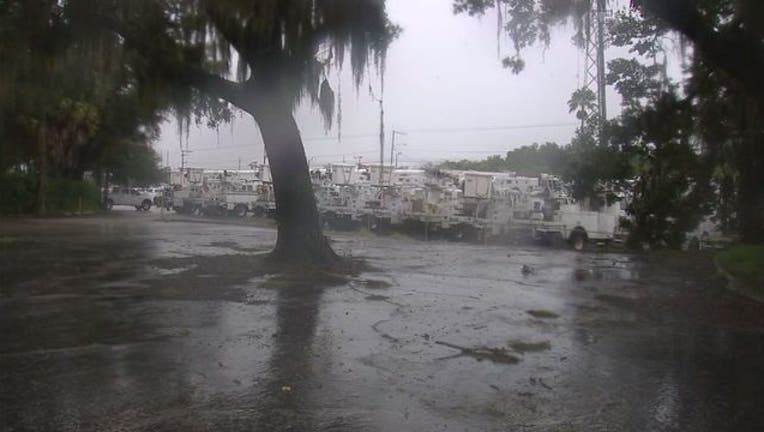 TAMPA (FOX 13) - Tampa Electric Company's top executive offered a stark view of Hurricane Irma's possible impact on power customers Saturday.  
President and CEO Gordon Gillette said up to 70 percent of its customers could lose power during the storm. 
Gillette said rolling blackouts may be needed prior to the storm in order for supply to meet demand. Gillette said changes in the storm's predicted path and strength have TECO anticipating between 300,000 and 500,000 customers losing power. 
Gillette says TECO in the process of bringing 6,000 additional workers from other states to help repair and rebuild downed power lines as quickly as possible as soon the storm passes. TECO has 700,000 customers in the area.
Prior to the storm, rolling blackouts, lasting 15 minutes at a time, may be necessary to meet demand. Gillette called it a "slim possibility" but said if winds get too high, some power plants may be shut down, so that they can quickly restart when the storm passes. 
Gillette says there are contingency plans to deal with reduced power supply, but rolling blackouts may be necessary.  
"By rolling blackouts, I mean, "every 15 minutes we would take a group of customers off in order to lessen the demand so that supply can meet the demand", said Gillette. "I don't think that's likely to happen," adding, "but if it does, it could start as early as tonight [Saturday]."
Gillette said TECO will keep its customer service line staffed 24 hours a day until the storm passes. 
Customers can report outages by calling 1-877-588-1010, or online at tampaelectric.com. He said customers should only report outages after 15 minutes, to make sure it's not a rolling a blackout.
He urged customers to monitor TECO's outage map at www.tampaelectric.com/outagemap.
The map updates every 10 minutes with information on the cause of the outage and how long it will take to restore service.
Customers who plan to use generators in the event of a power outage need to plug appliances directly into the generator using an extension cord. Gillette said connecting your generator to your home's circuits may cause power to flow to outside lines, which could endanger the lives of repair crews. Generators should never be operated indoors, in garages, or near air conditioning ducts because they produce carbon monoxide – a deadly gas that you can neither see nor smell.
Gillette urged customers to report any downed power lines immediately by calling TECO's customer service line, or 911. He said downed lines should be considered "live", and if touched, could cause electrocution.  Avoid standing water as well, because it can be energized by downed power lines.  
To report other outages: