Eta arrives in Florida Keys; could soak the state for days
MIAMI - A strengthening Tropical Storm Eta cut across Cuba on Sunday, and forecasters say it's likely to continue strengthning as it slides across the Florida Keys and curls around the state.
Eta made its first American landfall late Sunday night on Lower Matecumbe Key with winds of 65 mph. 
The National Hurricane Center issued hurricane and storm surge warnings for the Keys from Ocean Reef to the Dry Tortugas, including Florida Bay. A tropical storm warning was issued on the east and west coast of South Florida and a tropical storm watch extends as far north as Anna Maria Island.
Eta is expected to bring hurricane conditions to the Florida Keys and portions of southern Florida through the night and into Monday morning. 
FOX 13 meteorologist Tyler Eliasen says the Tampa Bay area can expect showers on and off on Monday with gusty winds. 
Highlands, Hardee, and Sarasota County closed schools on Monday, November 9 due to possible weather conditions as a result of Eta. 
LINK: Track Tropical Storm Eta on MyFoxHurricane.com
Eta is expected to move out into the Gulf of Mexico, where Eliasen says things get tricky. He says Eta looks like it may stall out in the Gulf for a few days and then begin moving north northeast making landfall north of the Tampa Bay area. If this happens, Eliasen warns that the Tampa Bay area would be on the eastern or "messy" side of the storm, which may be a hurricane at that point. That would bring nasty squalls and coastal flooding to the area.
Eliasen says there is a chance Eta could move into the Gulf and dissipate, but most models show the storm spinning in the Gulf for a bit and then moving north northeast toward the Tampa Bay area.
Florida Gov. Ron DeSantis declared a state of emergency Saturday for eight counties at the end of the state as Eta approached, urging residents to stock up on supplies. South Florida started emptying ports and a small number of shelters opened in Miami and the Florida Keys for residents in mobile homes and low lying areas.
Miami-Dade County declared a state of emergency Friday night and also warned a flood watch would be in effect through Tuesday night.
LINK: Track Tropical Storm Eta on MyFoxHurricane.com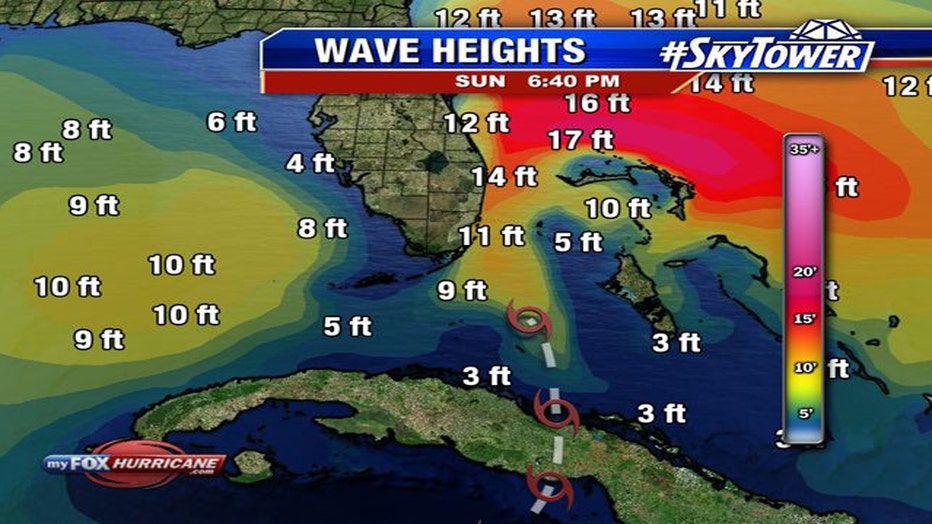 The storm already has left scores of dead and over 100 missing in Mexico and Central America, where it hit last week as a major hurricane. 
Eta breached Cuba even as searchers in Guatemala were still digging for people believed buried by a massive, rain-fueled landslide. Authorities say 15 people are confirmed dead and at least 109 are missing in Guatemala, many of them in the landslide in San Cristobal Verapaz.
Pope Francis on Sunday spoke about the population of Central America, hit "by a violent hurricane, which has caused many victims and huge damage, worsened as well by the already difficult situation due to the pandemic." Speaking to faithful gathered in St. Peter's Square, Francis prayed that "the Lord welcome the deceased, comfort their families and sustain all those so tried, as well as all those who are doing their best to help them."
___
Information from the Associated Press was used in this report.