Tropical Storm Michael forms, heads toward Gulf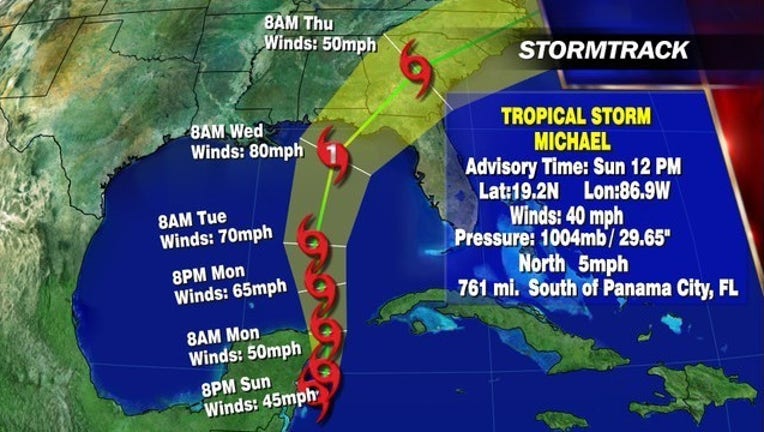 TAMPA (FOX 13) - Tropical Storm Michael officially formed in the far western Caribbean early Sunday afternoon. As of 8:00 p.m. Sunday it was located about 100 miles east-southeast of Cozumel, Mexico.
Michael continues to battle relatively strong wind shear out of the west. This has displaced most of the system's convection east of the center and is keeping a lid on things, so to speak, for now. However shear should begin to lessen as Michael moves north through the Gulf. The storm should be able to tap into a large amount of ocean heat content across the central and eastern Gulf as well. Suffice it to say that strengthening is expected and it looks as though Michael will become a category 1 or 2 hurricane before it near land toward the middle of the week.
As far as the track is concerned, models have certainly been honing in on Northwest Florida, but exactly where between Pensacola and the Big Bend will play a big role in exactly who sees what. This will be especially true when it comes to storm surge because of the role that the shape of the coastline will play. For now, it's still a little too early to talk about specific impact for specific areas.
We do expect alot of tropical moisture will be heading north this week and much of the state of Florida, as well as many areas in the Southeast will see increased rain chances over the next few days.