Good Day Gourmet: Crab cake tacos with mustard sauce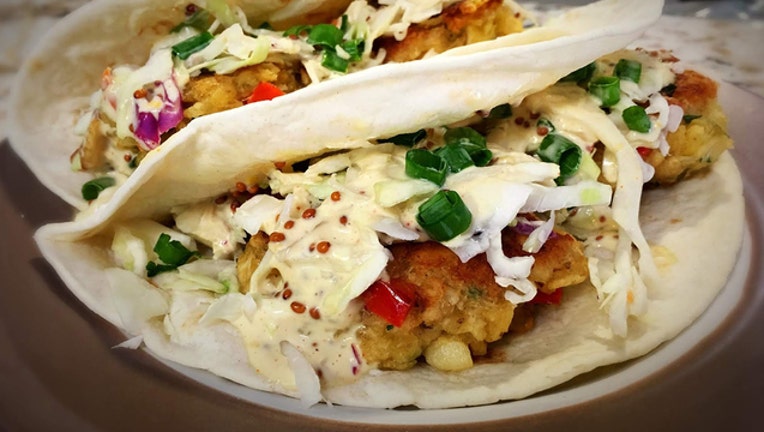 TAMPA (FOX 13) - Crab cakes don't have to be served alone.
In this recipe, Vanessa decided to turn them into tacos, with a special mustard sauce. Sixteen "silver-dollar" sized crab cakes is the serving size for this recipe, but the tortilla size determines how many tacos can be made.
Watch the video above for directions; here's what you'll need to make it:
INGREDIENTS
Crab cakes
8 oz. lump crab meat
1 egg, beaten
2 1/2 cups crushed saltine crackers
1 small onion, diced
1/2 red bell pepper, diced
4 cloves garlic, finely minced
4 tbsp. mayonnaise
4 tbsp. Dijon mustard
2 tbsp. lemon juice
3 tbsp. parsley, finely chopped
Salt and pepper, to taste
Mustard Sauce
2 tbsp. mayonnaise
2 tbsp. Dijon mustard
2 tbsp. whole grain mustard
1 tbsp. lemon juice
Worcestershire sauce, a few shakes
Cayenne pepper, to taste
Tacos
Scallions, chopped
Flour tortillas
Slaw mix
INSTRUCTIONS
1) Sauté diced onions, peppers, and garlic until the vegetables are soft.
2) In a mixing bowl, combine sauteed vegetables, lump crab, egg, crushed saltine crackers, mayonnaise, Dijon, lemon juice, parsley, and salt and pepper. Mix well.
3) Cover a frying pan with cooking oil and heat to medium-high heat.
4) When oil starts to ripple, crab cakes are ready to fry. Form small cakes (small enough to fit inside the tortillas you have), and fry cakes in batches.
5) Fry cakes on one side and, once browned (usually after a couple minutes), flip cakes and fry the other side.
6) Mix the mustard sauce by combining listed ingredients in a separate bowl and mixing well.
7) Build the tacos by placing a couple crab cakes on a tortilla, topping with chopped scallions and slaw mix, and drizzling with mustard sauce.