2018 Gerber baby celebrates 2nd birthday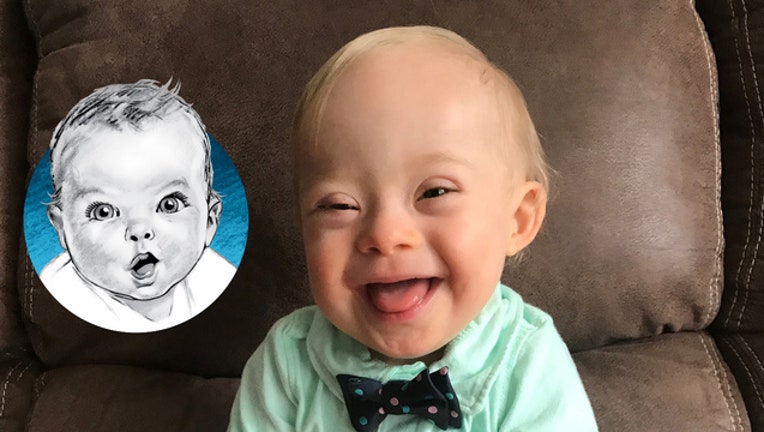 article
ATLANTA - This year's Gerber Spokesbaby, a toddler from Dalton, Georgia, recently celebrated his second birthday. 
App users: View full article here
The iconic baby food brand Gerber shared a photo of Lucas Warren with a big smile on his face at his birthday party. It was a farm-themed bash, thrown by Gerber. 
Lucas turned two on Sunday.
Lucas made history as the first winner of the Gerber Baby Photo Search to have Down syndrome. He was picked out of more than 140,000 entries. 
RELATED: Georgia toddler with Down syndrome named 2018 Gerber baby
"Lucas' winning smile and joyful expression won our hearts this year, and we are all thrilled to name him our 2018 Spokesbaby," said Bill Partyka, Gerber's president and CEO. "Every year, we choose the baby who best exemplifies Gerber's longstanding heritage of recognizing that every baby is a Gerber baby, and this year, Lucas is the perfect fit."
Courtney Warren, Lucas' mom, said that's she happy that Lucas has this platform to spread joy.
"We hope this opportunity sheds light on the special needs community and educates people that with acceptance and support, individuals with special needs have the opportunity to change the world – just like our Lucas!" she said.
Lucas' dad has been in the Georgia National Guard for six years helping repair helicopters, and his mom works part-time.
As the Gerber grand prize winner, Lucas was not only named the 2018 Gerber Spokesbaby, but he and his family also received $50,000, which his parents are going to put toward his education.
The first Gerber baby was Ann Turner Cook, who celebrated her 91st birthday last year. Lucas and Ann recently met one another, and Gerber shared a touching photo of them on Facebook. 
ADORABLE: Original Gerber baby and latest baby meet
"Those iconic Gerber smiles," Gerber wrote in the Facebook post. "The original Gerber baby, Ann Turner Cook, meets our Spokesbaby Lucas,"
A charcoal drawing of Cook when she was just 5 months old has been used as the face of the Gerber brand since 1931. 
As the Gerber Spokesbaby, Lucas has been appearing on the brand's social platforms since February.
Gerber launched its Photo Search contest in 2010 and has annually been choosing a baby to represent their brand.