2021 Florida State Fair arrives – a little later than usual – with all the food and fun
TAMPA, Fla. - Foodies and thrill-seekers have something to look forward to: the Florida State Fair is finally here.
The annual fair is usually held in February before the Florida Strawberry Festival, but organizers delayed it this year due to the pandemic. However, the show must go on. The 11-day event will run through May 2. 
The "Flip the Switch" ceremony took place Thursday morning, turning on fair lights before sunrise.  Then, those deep-fried dishes made their debut – such as the Flaming Hot Cheetos Funnel Cake and Deep-Friend Molten Lava Cake.
READ: All of the new fair foods to try at the 2021 Florida State Fair
Things will work a little differently this year, but the rides, the animals, the entertainment, the arts and crafts and all that fair food, it's all back.
"We're going to have the same great experience -- the 117th tradition we've always had," said Florida State Fair executive director Cheryl Flood. "It's just some of the larger luncheons and things we've done traditionally those will not happen this year. The outdoor event, enjoying the sun with family and friends with people smiling, all of those are available."
New safety measures are now in place including a mask requirement for all guests, except when eating or drinking.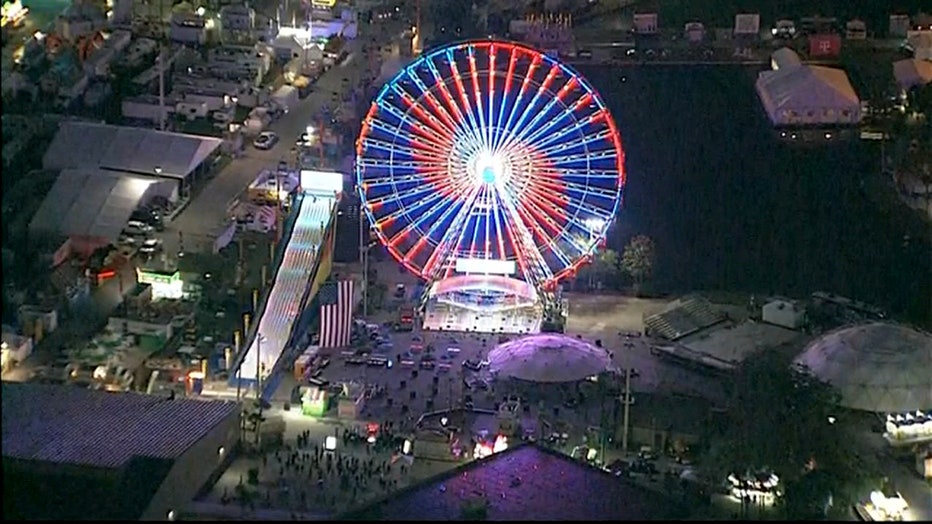 The view from SkyFOX showing the Ferris wheel lights following the "Flip the Switch" ceremony on April 22, 2021 -- opening day for the Florida State Fair.
"Safety is still a top priority," Flood told FOX 13. "We've all been living with COVID for over a year now. So, we're just asking the public to be prepared, know before you. Come with a mask. You have to enter with a mask. We ask that you stay with your party. Plan ahead. Wear comfortable shoes. We're a 336-acre property we got plenty of room to spread out."
Hand sanitizer stations have also been implemented throughout the fair, including the entrances and exits of Midway rides. Queue lines will include six-foot distancing.
There will also be cashless payments. indoor spaces will have wider aisles, Flood said, allowing more room for people to walk.
Gates open at 11 a.m. Monday through Thursday and 10 a.m. Friday through Sunday.
LINK: For more information, visit the fair's website, floridastatefair.com.