300,000 expected in Tampa ahead of Gasparilla's pirate festivities
TAMPA, Fla. - The day before Gasparilla is known as "black flag Friday" at Pirate Fashions on Cayuga Street and Dale Mabry Highway in Tampa. The store was packed with people getting last minute garb before the pirate festivities begin.
"I'm getting some accessories and some beads, last minute stuff for the boat," said Lauren Klein, who will be on one of the many boats in the water during the pirate invasion.
"Just general pirate garb, we're looking for like, the poofy shirt, pants, belts, stuff like that," said Colton Brown, a shopper visiting from Gainesville.
RELATED: WWE Hall of Famer Ric Flair ready to lead Gasparilla festivities as Grand Marshal
Gasparilla is a time when Tampa is in the spotlight.
"Good times and looking forward to being out in the community and celebrating the great Tampa Bay, where we live," Klein said.
For the celebrations to go off without a hitch, local law enforcement patrols will be in full force.  The Tampa Police Department is expecting about 300,000 people along the parade route.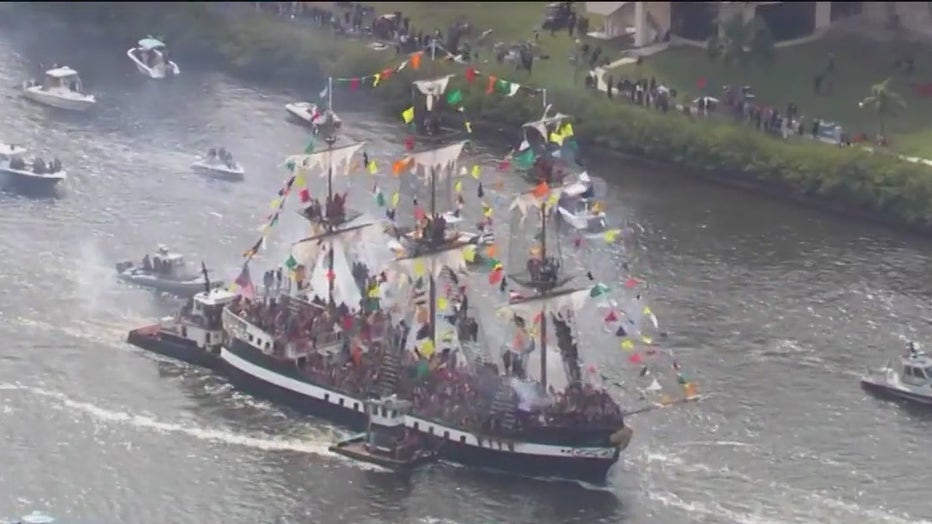 TPD said it has dive teams and air patrol, including two helicopters monitoring the big crowds and the large amount of boats coming in.
PREVIOUS: Law enforcement pushes boating safety ahead of Gasparilla
"It's a little rowdy, there's a lot of people, but it's also a lot of fun," said Brown. "It can be loud, you get to see all the people in the pirate stuff and watching everyone have fun as well is always great."
Officers in a command center will be watching live feeds from their choppers and can send teammates to anywhere they spot problems, like boats in distress, anyone fallen overboard or anything suspicious. TPD even has land and sea covered.
The Florida Fish And Wildlife Conservation Commission is also beefing up its patrols, saying there will be as many as 70 law enforcement boats on the water.
If you're going to be out on the water, FWC said everyone in a vessel needs to have someone designated to stay sober throughout the day. The agency said up to a dozen people were arrested for boating under the influence last year.