66 tons of dead fish pulled from Sarasota beaches amidst red tide bloom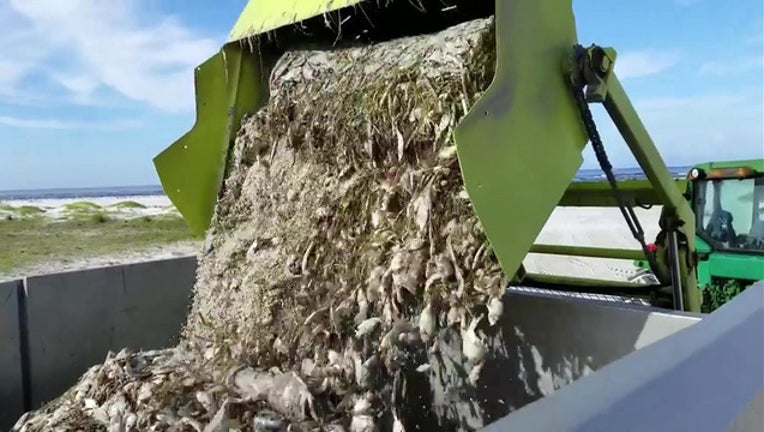 article
SARASOTA (FOX 13) - A persistent red tide bloom continues to send dead fish and marine mammals washing up on the shores of Southwest Florida. Now, one local county says crews there have removed more than 66 tons of dead fish from beaches in just the last few days.
Friday, shifting winds had pushed the stench of red tide back to shore along Manatee and Sarasota counties, where work continued to keep the beaches clear of dead wildlife.
Red tide is an algae bloom that depletes oxygen in the water, killing marine life from fish to manatees to turtles.  The organism can also cause respiratory problems and eye irritation in humans.  
Scientists with Mote Marine Lab in Sarasota say the blooms are naturally occurring, but they think man-made nutrients like fertilizer and river runoff can make them worse.
The current bloom has been lingering for 10 months, but has gotten much worse in the last few weeks. Fish, dolphins, turtles, and manatees have been washing ashore as the bloom creeps north.
Since August 1, Sarasota County says, its crews have removed 66 tons of dead fish from the beaches, mostly from Siesta Beach and Lido Beach.  
Similar work is underway in Manatee County, where inmates with the Offender Work Program joined county employees using front-end loaders to remove the carcasses of everything from mullet to snook to grouper.  
Now, Manatee County says they are looking for temporary workers to help shovel fish.  The job pays $12.50 per hour.  Applicants are asked to call Faraja at Ad-VANCE Talent Solutions for more information: (941) 739-8883.
Meanwhile, Mote Marine asks anyone who sees a dolphin, or any animal in distress, to send them a picture and video, if possible.  The lab is being inundated with calls and workers say this can help their staff identify if an animal needs immediate help.
"We are planning for the worse. We don't see an end in sight right now," offered Mote Marine Laboratory's stranding investigations program manager, Gretchen Lovewell. "We are just trying to gear up and rotate people in."
For the latest red tide testing results, visit myfwc.com/redtidestatus or check the conditions of our area by visiting www.visitbeaches.org.