74-year-old woman fulfills lifelong dream of graduating from college
TAMPA, Fla. - Kathleen Doermer is fulfilling a lifelong dream. She's graduating from college, but she's not your typical college grad. 
Doermer gets noticed by students a lot on the campus of the University of South Florida. 
"I think I get a little extra attention and courtesy. Alot of them think I am a professor," she said.
WHAT'S RIGHT: Dover students reach national competition finals after building device that monitors athletes' temperature
She's not. At 74 years young, Doermer is a student. 
"The teachers here are really invested in the students. And you feel it and you know it. And they're so encouraging, and they really care about each and every one," Doermer said.
Her mom nagged her for years to go back and finish school. 
"'Kathy, why don't you finish? Why don't you finish your degree?' And I finally listened to her, I guess, because it hit me that now was the time to do it," she added. 
READ: Pasco County ministry helps troubled teens through free counseling
Doermer decided not to waste any more time and went back in 2019, but, the road to graduating wasn't easy.
 "I only took two subjects a semester, because I was working," she said. "I was selling real estate."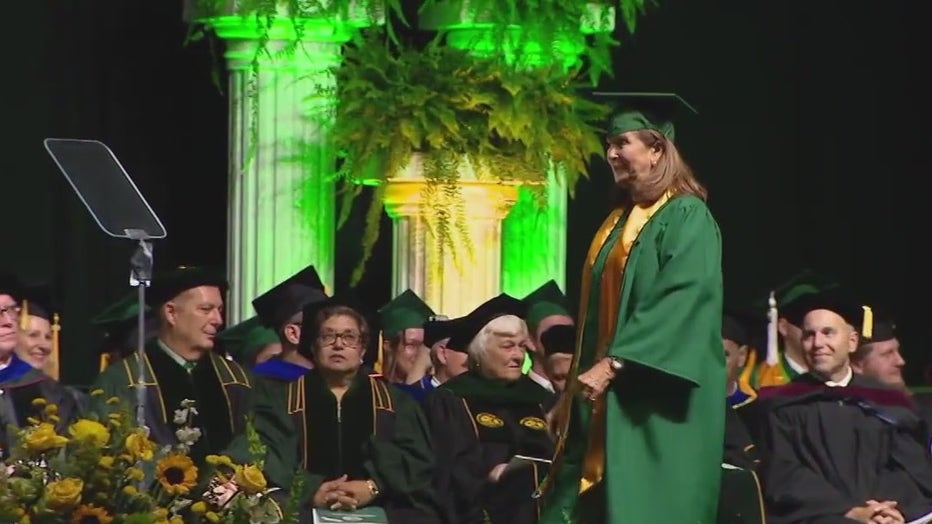 All the hard work has paid off for Doermer. She is part of the USF graduating class of 2023 with a degree in Interdisciplinary Social Sciences. 
"I was so excited all I wanted to do was get there and make sure I didn't fall down," she said. 
Her family and friends couldn't be more excited. 
MORE: From Buffalo Soldier to Rikers Island officer, Pasco County man keeps up active lifestyle years later
"We're so proud of her," said Christine Hearn, Doermer's daughter. "It's amazing it really is. She's an inspiration." 
She hopes to be an example for other seniors who didn't finish school. 
"It's never too late. And if you have it, if you feel like you really want to do it, don't hesitate. Don't be intimidated," Doermer said. 
Her story offers a blueprint of what you can achieve through perseverance and hard work. 
Doermer has been a real estate agent for 42 years and counting and said she is going to find ways to use her degree.