Tampa doctor proposing to high school crush nearly 60 years later goes viral on TikTok
TAMPA, Fla. - It's a love story 60 years in the making that ended with a proposal at Tampa International Airport on Friday.
Dr. Thomas McMeekin and Nancy Gambell first met in high school in Quincy, California.
"We admired each other from a distance," Tampa dermatologist McMeekin said. "I never thought I had a chance with her."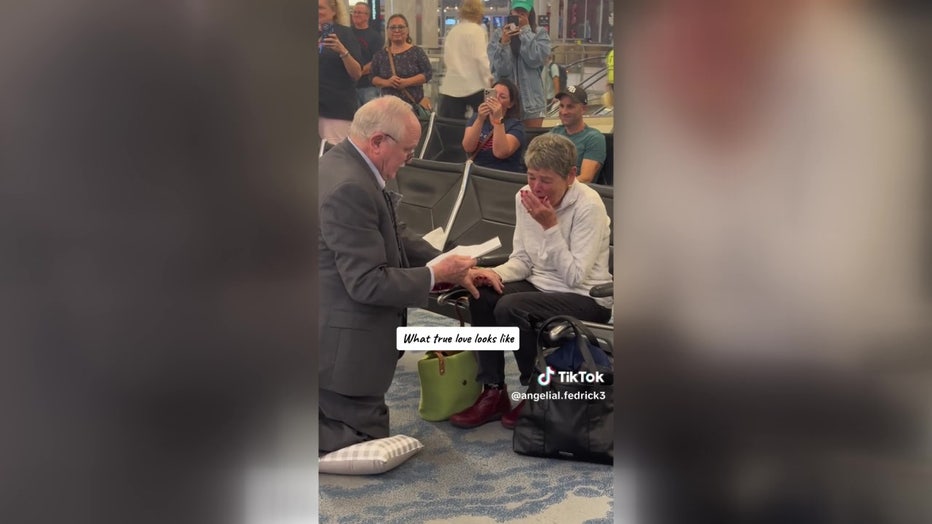 Dr. Thomas McMeekin and Nancy Gambell are finally together after decades of being apart.
The pair went to different colleges but did go on a few dates. However, they ended up marrying other people. 
Ten years ago, the pair saw each other at McMeekin's 50th high school reunion that Gambell was helping to plan. But nothing happened, and there was no further contact.
"I had my wife, and she was with her husband," McMeekin said.
READ: Lakeland couple's engagement ring found more than 20 years after it was flushed down the toilet
But everything changed three weeks ago when McMeekin RSVP'd to his 60th high school reunion happening in August. 
"Then I hear from her, and she says, 'I'm really looking forward to seeing you again,'" McMeekin said with a chuckle.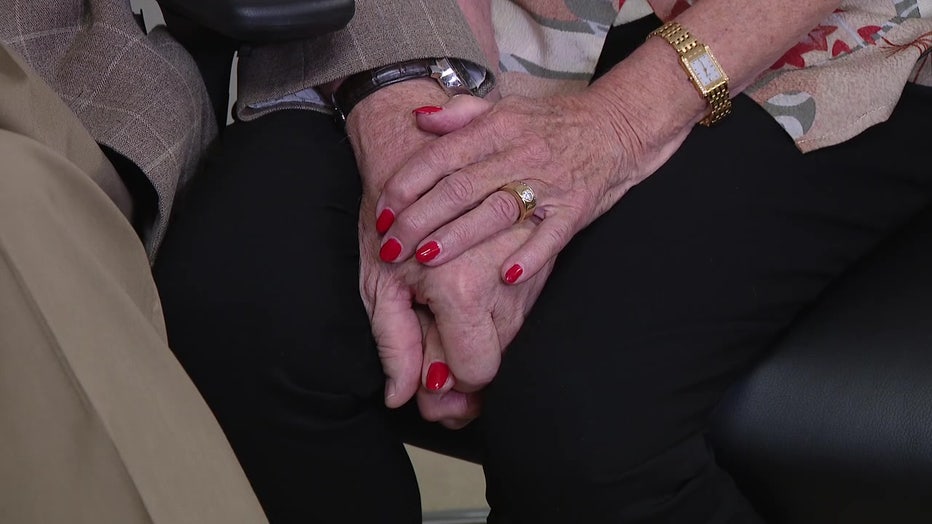 McMeekin did not think he had a chance with his fiancé when they first met 60 years ago. 
McMeekin said he promised her a "surprise" when she landed at TPA Friday: It was a necklace with both of their birthstones.
Several of his staff members were at the airport to witness and film what happened next: A marriage proposal.
"They all were excited because all week long, I've been acting like a giddy fool, jumping around and smiling!" McMeekin said.
One of the videos posted to TikTok shows McMeekin waiting for Gambell at the tram, then escorting her to a seating area where he drops down on one knee and asks her to marry him.
READ: Viral 'mermaid mantra' TikTok shows the importance of water safety for children
"I thought, thank God I don't wear makeup. I would have stuff just running down my face," Gambell said. "I was crying."
While the couple admits their timeline is fast, they said they know their connection is real and can't wait any longer.
"It's wonderful because we don't have a lot of life left. And to be able to spend it in that way with this person is a dream come true," Gambell shared.
The couple told FOX 13 they went ring shopping Monday afternoon and are now planning a California wedding.