Alert Tampa brings emergency notifications to residents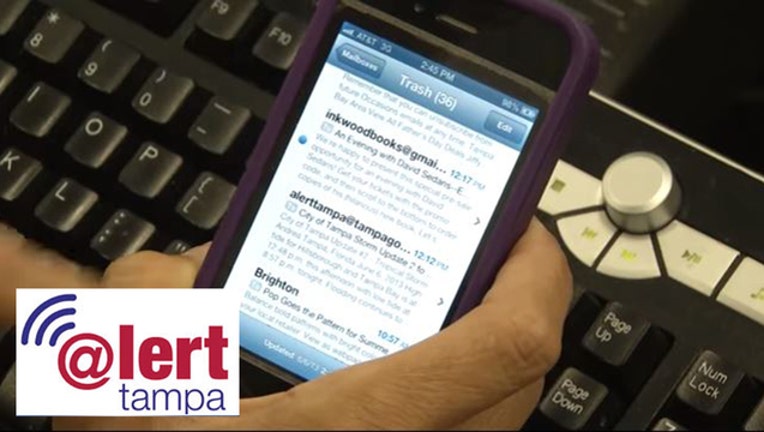 article
TAMPA (FOX 13) - If you happen to be signed up with Alert Tampa to receive emergency notifications, you may have received a phone call today with a message from Mayor Bob Buckhorn, warning you to keep an eye on Hurricane Matthew.
"You gotta be prepared. I'd rather be prepared than not be prepared and have something catastrophic hit, so we're doing everything we can to make sure our folks are notified," Mayor Bob Buckhorn said.
If you live in the city of Tampa or want to be notified about any emergency situations there, including evacuation notices, re-entry orders, boil water notices and much more, you can sign up on the city of Tampa's website, www.tampagov.net/alert-tampa.
On Wednesday, those already registered for Alert Tampa received a test message from Mayor Bob Buckhorn urging them to update their Alert Tampa.
LINK: Bay Area sandbag pickup locations
The service is part of the city's partnership with Everbridge, which provides critical communications, to keep residents, staff and emergency personnel safe and informed with emergency notifications and public service announcements. The service was rolled out in Tampa on October 1.
The City of Tampa Office of Emergency Management said it will use the Alert Tampa emergency notification system to alert residents about a variety of events, ranging from severe weather, fires, floods and other emergencies, to more routine announcements like road closures and water utility maintenance.
LINK: Bay Area school closings list
Anyone signed up can choose the types of alerts they want to get and the way they want to get them - cell phone, SMS, home phone, email, fax, pager and more. Anyone listed in the Tampa 911 database will be automatically subscribed to alerts by phone, but Alert Tampa allows citizens to self-register, provide additional contact information or opt out.