Antifa apocalypse? Anarchist group's plan to overthrow Trump 'regime' starts Saturday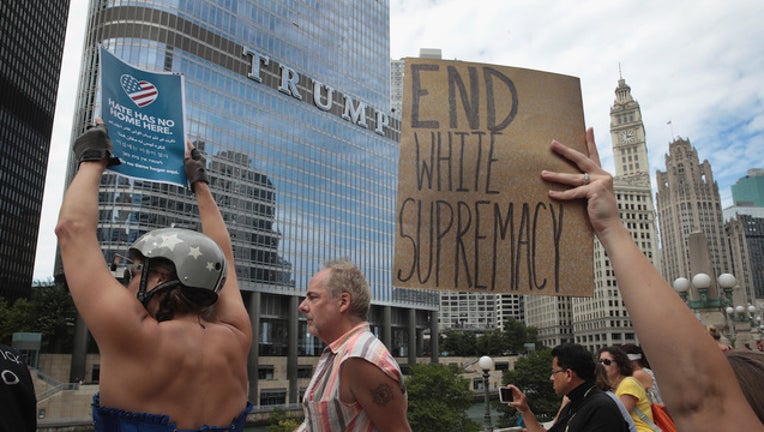 article
CHICAGO (Sun-Times Media Wire) - Will the so-called "Antifa apocalypse" come with a bang or a whimper?
A series of anti-government, leftist rallies set to descend on major cities nationwide Saturday is drawing the attention of local officials, who, like the organizers themselves, fear the events could be hijacked by violent masked anarchists.
The left-wing "Refuse Fascism" group is using Nov. 4 as its kickoff for demonstrations in nearly two dozen U.S. cities, protests it says will continue "day after day and night after night ─ not stopping ─ until our DEMAND is met."
The "DEMAND" is the removal of President Trump and Vice President Pence.
The gatherings are being described as a kind of "Antifa apocalypse" on right-wing media, according to The Washington Post. Several sites are expressing particular alarm about the loosely-defined left-leaning group, which preaches a version of ferocious anti-government chaos that often uses "domestic terrorist violence," according to a recent FBI report.
Among the 20 cities where rallies are set to occur are Atlanta, Austin, Boston, Chicago, Cincinnati, Cleveland, Honolulu, Los Angeles, Minneapolis, New York City, Philadelphia, San Francisco and Seattle.
The anarchist group, whose name comes from term "anti-fascist," made news earlier this week for allegedly harassing a female reporter at Columbia University and for seven arrests at California State University, Fullerton, amid reports of head-punching and pepper-spraying.
"You cannot try to 'wait things out'," a Refuse Fascism call to action reads. "Those who lived through Nazi Germany and sat on the sidelines, looking on as Hitler demonized, criminalized, and eventually rounded up one group after another, became shameful collaborators with monstrous crimes."
Tapping into movements like Occupy Wall Street and the Women's March, Refuse Fascism said it hopes to protest non-stop, 24/7 "until this regime is driven from power."
The organization is engaged with a broad coalition of groups, including the Revolutionary Communist Party — but says they are committed to a nonviolence stance.
Zee told The Washington Post his organization does "uphold the legal right to self-defense," but that they "don't initiate violence" and they "oppose violence."
Previous instances of antifa violence have, however, been justified as "self-defense."
"Fascism cannot be defeated by speech," Darmouth Prof. Mark Bray said in August.
Some of Refuse Fascism's literature and visuals are also drawing scrutiny for their use of violent images.
Refuse Fascism ATL's poster asks Atlanta demonstrators to bring "pots and pans" with an image of a pole poked through Trump's severed head, drawn as a pig's with flies buzzing around it.
Chicago's invite includes an image of a rope pulling down a Trump statue, which is already cut in half.
"Show this damn Trump and Pence regime that they do not rule over us," one organizer said in a video posted on Facebook. "Let us stand together, come together, and fight this regime on November fourth."
"'This Nightmare Must End' captures how millions of people feel right now…where you may face persecution or even death," said Andy Zee, a member of the advisory board of Refuse Fascism, according to the Revolutionary Communist website.
Zee called for a "ferocious struggle" because "normal forms of petition (like protest as usual) DO NOT APPLY with Trump." Recently, several members shut down a Los Angeles highway with "Nov. 4 It Begins" signs in a show of "non-violent civil disobedience."
Zee cites the pamphlet "The Coming Civil War," by Bob Avakian, the Chairman of the Revolutionary Communist Party and architect of the new synthesis of communism, to point out why the group demands "the whole regime must go."
Avakian brands Pence the political leader of "Christian fascism," a "fascism wrapped in the Bible taken literally and the American flag, saturated with racism, misogyny, and xenophobia," which he compares to the "kind of Islamic fundamentalism that is tearing up the Mideast."
Zee also says news organizations such as CNN, MSNBC, the New York Times, and the Washington Post "must go all out" to "hound the enemy: the regime, Congress, administrators from agencies such as ICE, the Border Patrol, and more."
Zee said the group has the necessary "people" ─ and "anger" ─ to remove the "cruel and brutal future" of the Trump administration on Nov. 4.
More on FoxNews.com.