Artificial intelligence being used in massive condo building construction in St. Pete
ST. PETERSBURG, Fla. - Construction on the massive condominium building in downtown St. Petersburg is coming along, and part of what makes the project unique is it's being built with the help of artificial intelligence.
Suffolk Construction is using artificial intelligence and 3D modeling for 400 Central Avenue, getting down to the ductwork and studs, all from 2D plans.
"So, rather than building in the field and learning from those mistakes, as we put the 3D model together, we can see the mistakes before the building is built," said Andrew Pierce, the vice president of operations at Suffolk Construction.
READ: Artificial Intelligence being used in sextortion cases involving minors: Florida attorney general
Pierce said Suffolk can click through the model, and it will identify problems that exist within the plans, so they are alerted to it before big mistakes happen at the site. That's important for the tallest residential building to go up on the gulf coast. 
"What we're seeing now with AI is, you'll get suggestions on how to fix it. Does this pipe need to move this way? Does this ceiling need to drop a little bit?" said Pierce.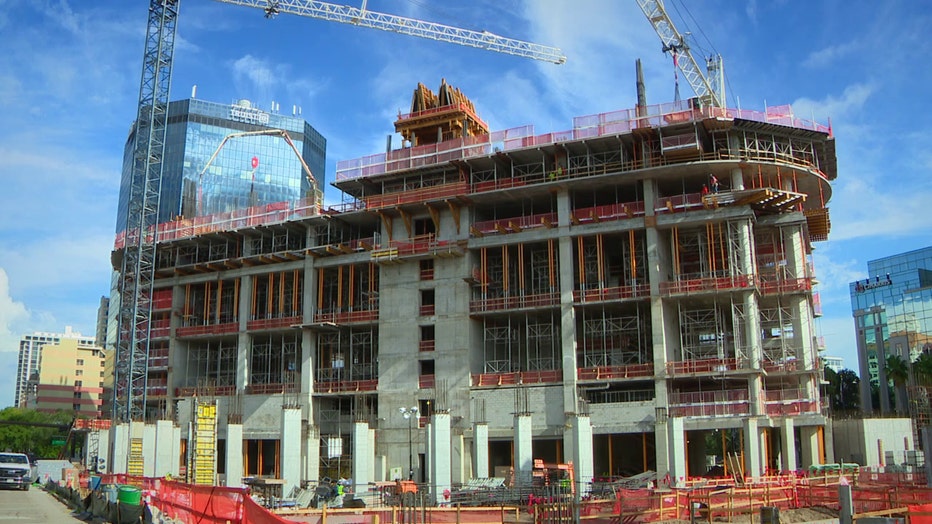 They're able to work faster and smarter, putting the actual models and dimensions of appliances and cabinets in the software to see if everything fits.
"It just becomes a delay in the field where we could just take a few minutes, move that pipe inside the wall and all of a sudden the problem's gone, and we proceed like we originally planned," said Chris Lewis, a project executive at Suffolk Construction.
MORE: George R.R. Martin, John Grisham among 17 authors suing ChatGPT-maker for 'systemic theft'
The use of AI can also help construction on time and keep up worker morale. 
"For those guys to put a lot of time into something just to realize that there's an error, and they have to go and undo it, if you do that constantly day after day, it's a detriment for not just the project but for those people that are working on it. It can get really frustrating," said Lewis.
Suffolk is also using an AI system to catch any water leaks that happen on the site, so they can get an instant alert. Pierce said they're also able to adjust the construction plans in real time, so the workers down on the ground are also able to see what's changed as it happens.
Construction is expected to be finished in 2025.