Artist who lost son writes inspirational kids book with her best friend
TAMPA, Fla. - A tragic accident led two best friends to write a story for children that inspires them to reach for their dreams.
"I have love to draw my whole life," said Kelly Jo Terry. "It's been very natural for me. I've always be creative, and I always love to draw when I was little." 
That all stopped in 2020 when she lost her oldest son, Sam, in a tragic accident.
READ: Moffitt Cancer Center uplifting the spirit of patients through art and music
"His discomfort and pain that way, and then just made a poor decision and accidentally overdosed one night here at home," said Terry. "And it was just unspeakable, honestly." 
To help her deal with Sam's loss, her best friend Amy Quezon-Wilde would send her pictures of bumblebees, Sam's favorite insect.
"Sammy was a big environmentalist, and he felt like, and he's correct that, the bees were a very good litmus test for our environment," said Wilde. "And if the bees were doing okay, then the rest of us were doing okay."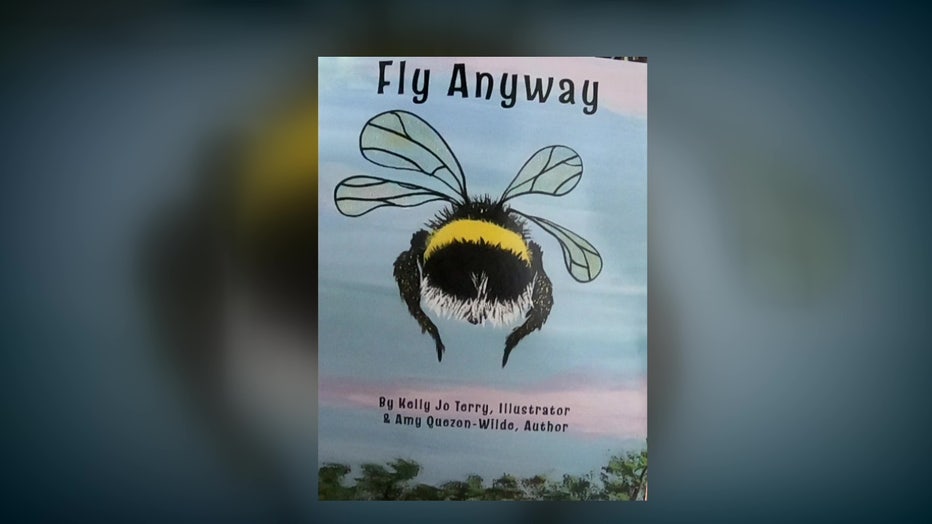 "Fly Away" is a kids book about accomplishing dreams.
But after Sam's death, Terry was not okay.
She didn't pick up a paint brush for 10 months. That was until Quezon-Wilde sent her a picture of a bumblebee that sparked her interest.
"I thought she was cute, and I thought like when in the middle of the night, I thought I could just paint her. She's just so cute," Terry said.
The painting led them to write a children's book about a bumblebee who wanted to fly. The book is called "Fly Anyway".
"Bees aren't supposed to be able to fly aerodynamically because their bodies are too big for their little wings. But the bees don't know anything about that. And so they fly anyway," Wilde explained.
READ: High school student digs up 34-million-year-old whale skull on family farm
The book's goal is to teach children they can achieve their dreams no matter what anyone says. 
"Kids are told all the time that if they think differently or if they look differently or if they behave differently, that they're incapable of accomplishing their dreams," said Wilde. "And that's simply not true. And that's what we want kids to know." 
The book is the story of Bea, who is told by other animals she can not fly.
"She's traveled and she's worked to find her truth. She discovers that her truth was with her all along. She's been doing everything that she ever wanted to do. It's always been inside her," Terry explained.
The book can be purchased online. Terry said Sam would have been proud of the message.