Banana Boat sunscreen recall expanded over benzene concerns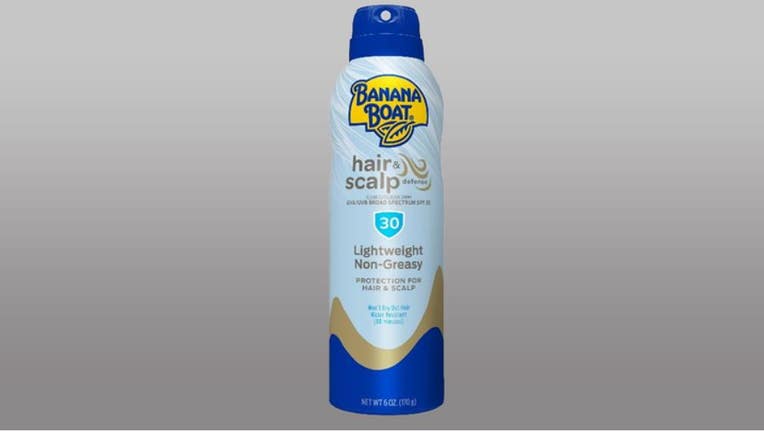 article
Edgewell Personal Care Company expanded the recall of its Banana Boat Hair & Scalp sunscreen products due to the presence of the cancer-causing chemical benzene. 
The recall now includes four batches of the Banana Boat Hair & Scalp Sunscreen Spray SPF 30, according to a notice posted by the Food and Drug Administration (FDA). 
The company on Friday voluntarily added one additional batch to the original recall, which was announced in July 2022.
DISNEY HAND SANITIZERS RECALLED DUE TO BENZENE AND METHANOL PRESENCE
The recall was first issued after the company discovered that some samples of the product contained trace levels of benzene.  
"While benzene is not an ingredient in any Banana Boat products, the review showed that unexpected levels of benzene came from the propellant that sprays the product out of the can," the company said in its recall announcement.   
Roughly one year ago, Sure and Brut-branded deodorants and antiperspirant aerosol sprays distributed across North America were also recalled after officials discovered "unexpected levels" of benzene that came from propellant that sprays the product out of the can.
FLORIDA COMPANY RECALLS HAND SANITIZER DUE TO BENZENE
It's the same issue that led Procter & Gamble to recall over 30 of its aerosol spray products from various brands in December 2021. 
According to the recall notice, exposure to benzene can potentially "result in cancers including leukemia and blood cancer of the bone marrow and blood disorders which can be life threatening." 
Edgewell said that no adverse events related to this recall have been reported, and that "daily exposure to benzene in the recalled products would not be expected to cause adverse health consequences according to an independent health assessment using established exposure modeling guidelines."
CLICK HERE TO READ MORE ON FOX BUSINESS
Edgewell said its sunscreen spray products were distributed nationwide through various retailers and online. The company has "notified its retailers to remove any remaining recalled product from shelves," according to the recall notice. 
The company said that Banana Boat will also offer reimbursement for consumers who have purchased one of the affected products.