Bay Area businesses temporarily close Thursday to protest Florida's new immigration law
TAMPA, Fla. - Tampa's Al Lopez Park is one of several sites across Florida where peaceful protests were planned for Thursday in conjunction with labor strikes and Hispanic-owned business closures. 
Organizers are calling the series of demonstrations 'A Day Without Immigrants,' part of a nationwide effort to protest Florida's sweeping new immigration law.
Protesters stood at the corner of Dale Mabry and Columbus Thursday morning holding signs, playing music and chanting. A group was still out there well after 5 p.m. 
"They're not taking jobs away from Americans. They're doing jobs that Americans don't want to do. That's my opinion," Christina Rubio said. 
Rubio said she owns a small cleaning business in Brandon.
"I think the hardest industries is construction, the fields, and the hotels," Rubio said. "As a business owner, there should be like permits for jobs that nobody else wants to do."
Kevin Welch said his husband is an immigrant from Honduras. Welch got emotional when talking about the governor and the new immigration law. 
"What he's done, it makes me cry," Welch said. "I just feel strongly that the immigrants are a good part of our country, and they make our country whole."
The measure includes stepping up requirements on businesses to check the immigration status of workers, cracking down on people who bring undocumented immigrants into Florida and collecting data about whether hospital patients are in the country legally. 
It is part of a series of steps that Governor Ron DeSantis and other Republican leaders have taken in recent years aimed at undocumented immigrants.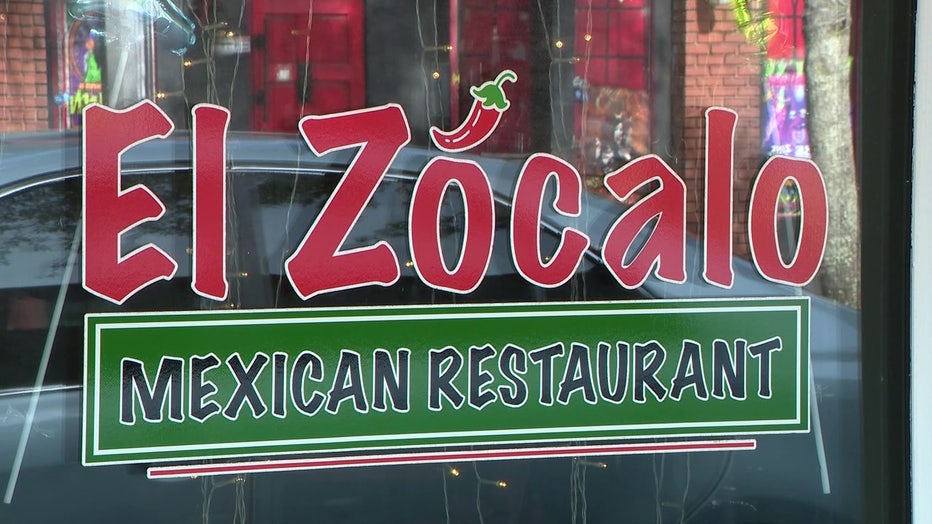 El Zocalo Mexican Restaurant.
Sarasota-based Mexican/dance radio station WTMY-FM reported a list of dozens of businesses that would be closed on Thursday. 
The station said it had spoken with the owners of various Hispanic businesses, with many confirming that on Thursday they would not open their doors as workers prepared to participate in the strike. 
RELATED: Border patrol agents in Florida 'prepared for anything' as Title 42 ends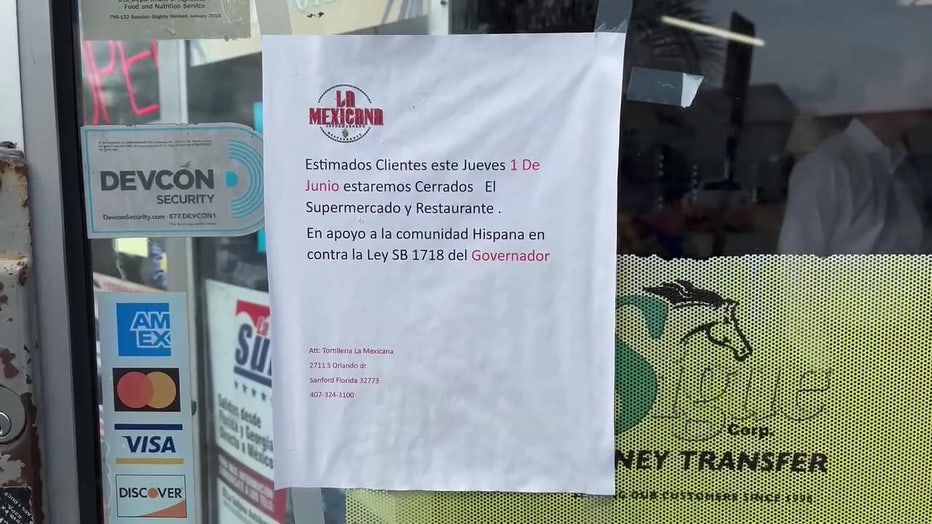 Sign on door of restaurant that will close on Thursday. 
Similarly, businesses in the greater Orlando area were also preparing to close in protest.
"This state is the most affected," said Jose Sivira, who works at a Mexican market in Sanford. "There are so many immigrants in this state."
The store, along with the San Miguel Mexican Grill next door closed. While the restaurant says it already had four chefs leave because they were worried about the new laws, the store says it is losing a lot of customers.
RELATED: Florida federal judge blocks immigration policy
"The problem is the customers," Sivira told FOX 35 Orlando. "The customers are Mexican people, from Guatemala, Venezuela, Columbia, El Salvador. All of those countries they try to move to other states. So, the businesses are closing."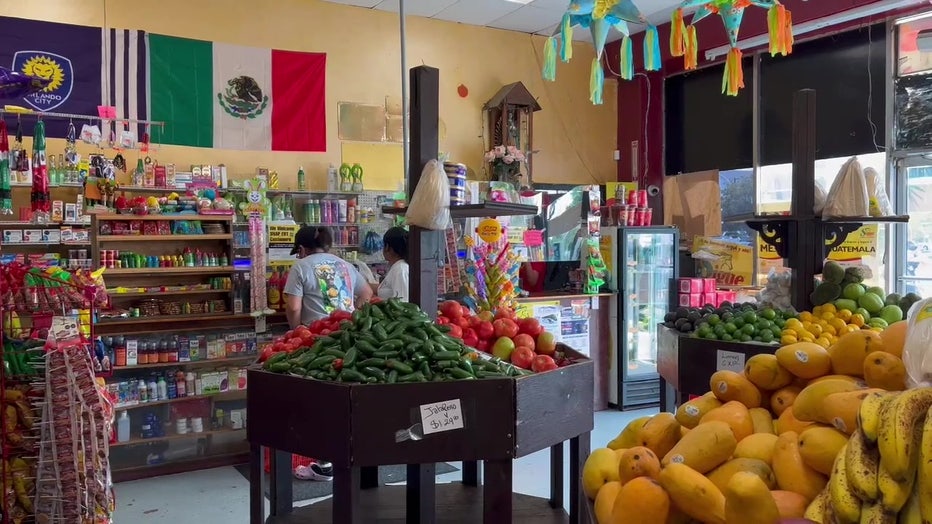 "We as well are immigrants from other places and our parents as well, so we understand the struggle in what's going on, so just to support," said Isabel Gaspar, the manager of El Zocalo Mexican Restaurant in Sanford.
The movement has been spreading on social media and goes far beyond just restaurants. "I think everyone's going to be affected, not just me," said Antonio Paxtor, the owner of Anthony's Landscaping.
The landscaping company was also closed on Thursday, saying new laws make it harder to find employees.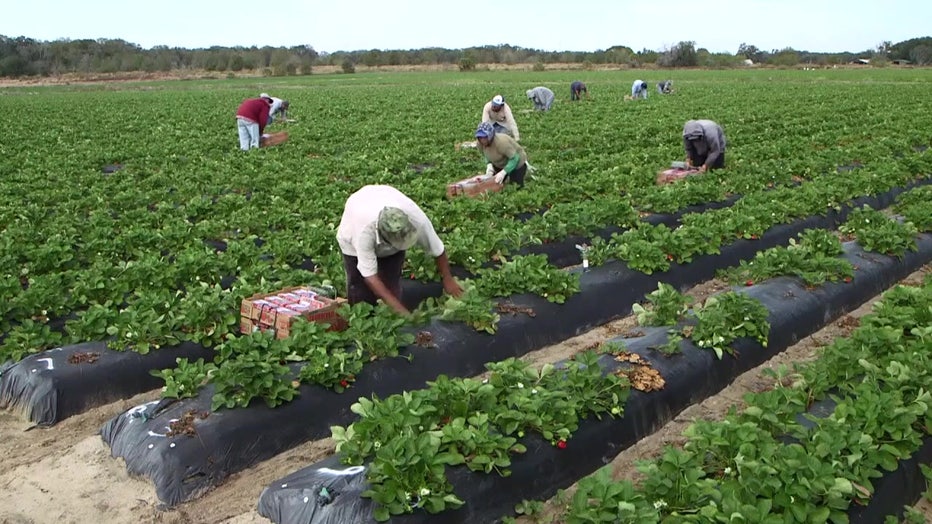 Workers in strawberry field. 
According to the 2020 US Census, there are 100,000 more Hispanic residents living in the greater Tampa Bay area than 10 years ago, not including people who are undocumented or are migrant workers. Based on public school records, the population is estimated to be around 500,000. According to recent reports, in Florida Hispanics were undercounted by nearly a million residents.
"[The protests] will maybe show a little impact of what could happen if (the law) does go longer for more days and if a lot more immigrants leave the State of Florida as well," Gaspar said.
Bay Area businesses that were closed Thursday include: 
Arcadia
The Golden Maya
The Guadalupana
The Place
The Charro
The Compades
The Zeta
Florid Fashion
Marme Travel
Azteca Shipping
Fifth of May
The Michoacana
Avon Park
Bradenton
Acapulco Tropical #1
Acapulco Tropical #2
Laureles Supermarket
The Tizon Grill
Ellenton
Acapulco Tropical and More
Port Charlotte
Punta Gorda
Sarasota
The Breeze Tacos and Seafood
Girls and Taqueria
The Bodega
Bombon Restaurant
Plaza Mexico
Paramo Restaurant
Guerreros Bakery
Guerreros Food Market
The Sabrocite
Los Compadres Market
Bohemian Tapas Restaurant
Mexicana Paleteria and Neveria
Zulfo Springs
The Spring Supermarket