How to help: Tampa Bay groups sending aid to Southwest Florida
TAMPA, Fla. - Volunteers and organizations across the Bay Area are stepping up to help those impacted by Hurricane Ian.
Click here to see ways you can help at the bottom of the page. 
In Hillsborough County, Feeding Tampa Bay held a "mega" food pantry, with enough to serve 700 families. Hundreds of cars piled into the parking lot at Hillsborough Community College, each with someone inside who has a story of need. Each gathered 30 lbs. of ready-to-eat meals.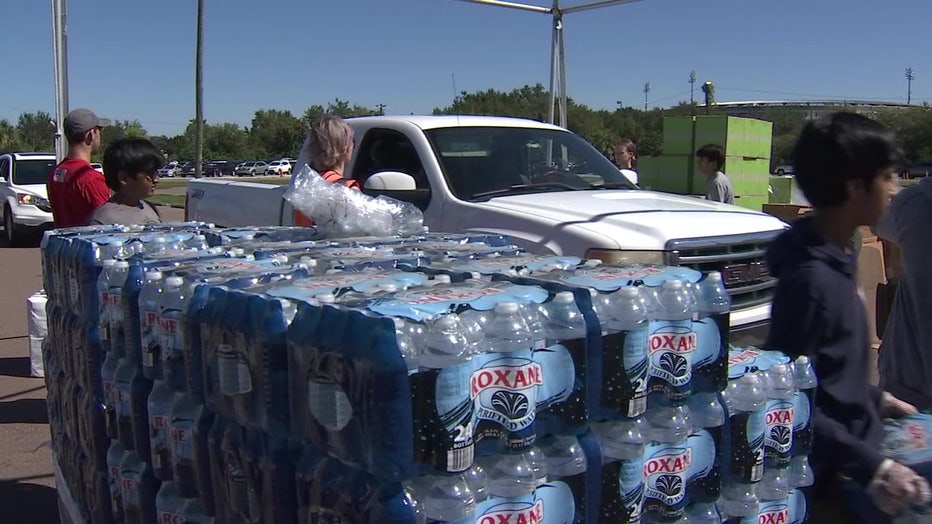 Volunteers and organizations across the Bay Area are stepping up to help those impacted by Hurricane Ian.
Priscilla Scurry lost power and saw money for food dry up as costs for home repairs rose.
"[Trail mix] is the only thing I have to eat right," she said. "I am hungry right now."
RELATED: FOX donates $1M to American Red Cross for Hurricane Ian relief efforts; how you can help too
Big Storm Brewing in Clearwater put out a call on social media for donations and Susan Williams answered. She arrived with food and numerous supplies.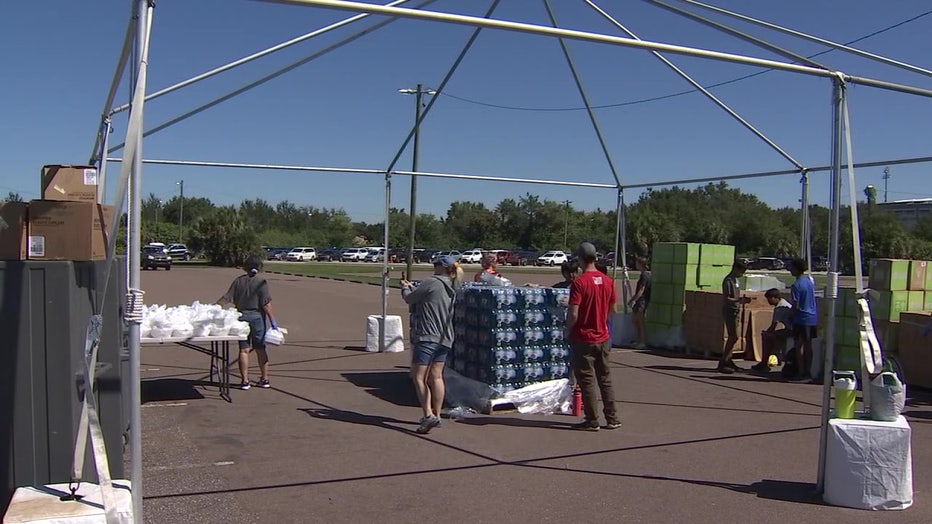 Donations are pouring in as Bay Area organizations help victims of Hurricane Ian. 
"They don't even have a home," Williams said of the victims in Fort Myers. "They don't have anything they can cook. I am trying to bring things that are at least healthy, that are in boxes that are ready for them to eat."
Big Storm Brewing is also filling up 10,000 jugs of water. Next week they will drive everything down in a 26-foot truck, and will continue doing runs as long as there is a need.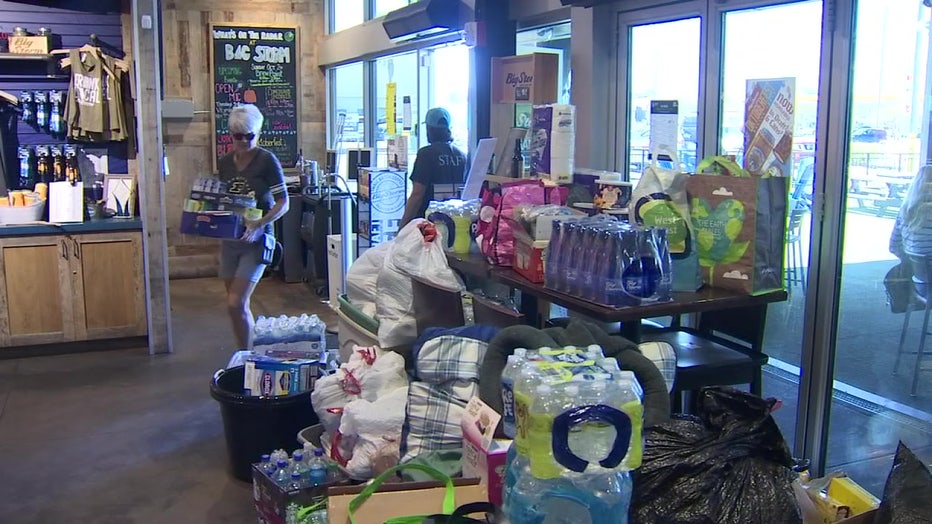 Volunteers are donating supplies to help those in need following Hurricane Ian. 
The worst could have hit the Bay Area – but didn't. That aspect has people in the region particularly willing to give.
"You don't want it to hit you," said Williams. "But you just don't want it to hit anywhere. I see what happened there and I know I wouldn't have a home."
OneBlood locations were forced to suspend operations as Hurricane Ian blew across the state, but one Tampa location was busier than ever Friday. People were donating and said they didn't think twice about rolling up their sleeves.
"Cancer patients, premature babies, sickle cell patients, trauma patients, a transplant patients, it goes on and on, the amount of people who need blood transfusions," said Susan Forbes, Vice President of Corporate Communications and Public Relations at OneBlood.  "And so this is why that supply has to be available at all times."
The need for food and ready to eat meals is also growing. Thousands are without power and not all roads are passable yet.
World Central Kitchen is using Metropolitan Ministries' facility to crank out 15,000 hot meals and 10,000 cold meals to deliver where it has needed most to our south.
"We don't know what the scale of the need is going to look like, but we're preparing to scale up, to grow our capacity and just make sure that we have food available for anybody who needs it," explained World Central Kitchen Director of Relief Operations, Fiona Donovan. 
OPERATION IAN RELIEF: In Hillsborough County, Captains for Clean Water is collecting gas cans, chainsaws, flashlights & batteries, premixed oil, water, sports drinks, non-perishable foods and generators. Crews will use the supplies during its relief trip, where members will remove debris and help families clean up. Items may be dropped off with Capt. Dustin Pack at Tampa Cruis A Cade, 2002 Cruis A Cade Place, Tampa FL, 33602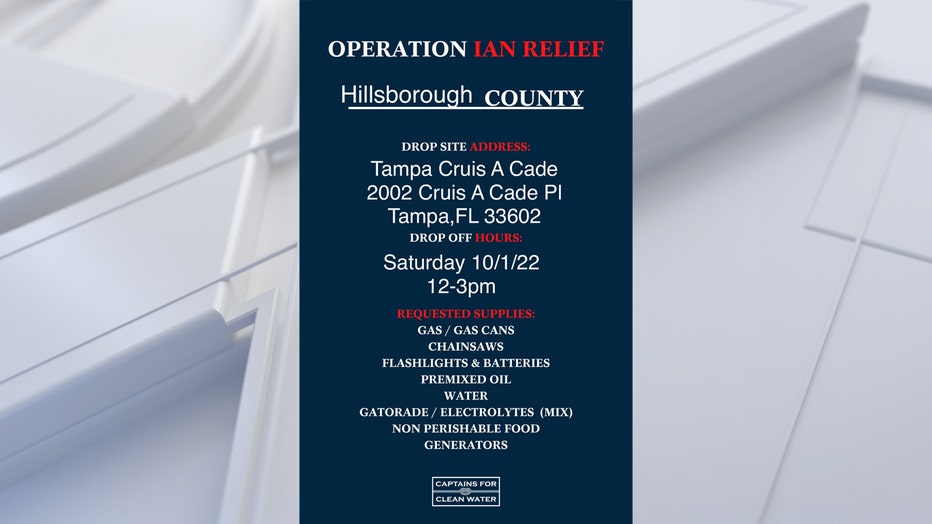 RED CROSS: Anyone who wishes to join FOX's effort to help those impacted by Hurricane Ian through donations can visit redcross.org/foxforward.
FLORIDA DISASTER FUND: The state of Florida has set up a private Florida Disaster Fund to respond to relief efforts as Ian makes its way on land. The money will be distributed to different organizations that serves people in various communities with disaster response and recovery. 
BIG STORM BREWING CO.: Efforts to help those impacted by Hurricane Ian are ongoing at Big Storm. Check their Facebook page for the latest information.
METROPOLITAN MINISTRIES: Donate funds or supplies to Metro Ministries' Urgent Hurricane Relief project at https://www.metromin.org/.