Bystanders tried to revive man struck by lightning on Florida beach
SARASOTA, Fla. - The man killed in Sarasota following a lightning strike on Siesta Key beach has been identified. 
The Sarasota Sheriff's office says 33-year-old James Barton of Seffner died Sunday afternoon.
RELATED: One killed by lightning in Sarasota
Deputies say they responded to the 6000 block of Midnight Pass Road around 2:15 p.m. for a report of a lightning strike. 
When they arrived, crews found a visiting first responder helping the victim.  
Ashley Blunkall was one of those bystanders. She ran toward the incident when she heard people yelling out for anyone who knew CPR.
"I checked his pulse. His arterial and his neck, and there was nothing there, so I began performing chest compressions," she said. "And there was another bystander who was doing the breaths for me.  It's not something you will ever unsee. It's hard."
Blunkall says she was doing CPR for ten minutes before paramedics arrived. 
Barton was transported to a local hospital, where he was pronounced dead.
Barton's mother, Talena Goad, said her son had a heart of gold. "He always had the biggest smile and the goofiest laugh, just like his father."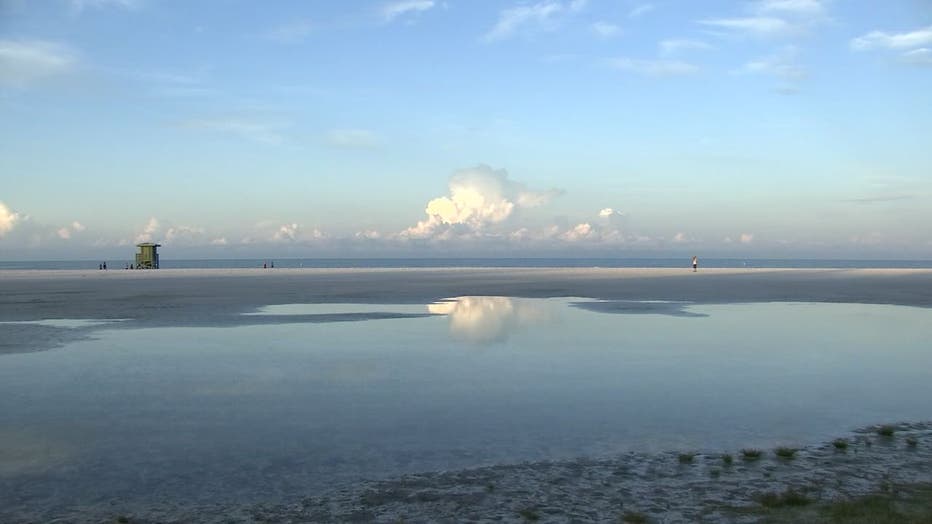 Not far from there, photographer Dylan Cox caught an image of the lightning storm he was shocked to see, one of a massive bolt that made a direct strike on a boating marker in the Bay. 
Cox says it hit about 100 yards from the shoreline.
"The storm was really just insane, I mean, it came in quick," Cox said. "It was a lot of the positive strikes which are the more dangerous and more deadly strikes with the straight one moment one moment, all of the energy is compacted into one strike."
Fox 13 spoke with one of the county's lifeguards, Tanner Weiss, who says it's very important for beachgoers to heed those warnings to take shelter if a storm comes. "Be aware, because here in Florida, our weather changes quickly so it can be sunny just like it is now, and in 30 minutes we could have a storm," Weiss said.
According to The National Weather service, in 2017 there were 16 fatalities in the United States from lightning strikes, five of which occurred in Florida. Barton's death marks the third fatality of 2018 for the sunshine state.