Caitlyn Jenner Halloween costume sparks outrage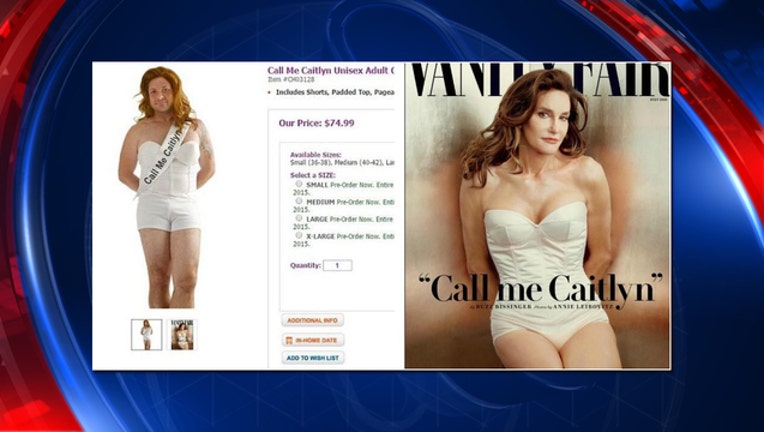 article
TAMPA (FOX 13) - Retailers' recently announced they'll be selling a Caitlyn Jenner costume for Halloween, sparking a social media firestorm about "transphobia".
The "Call Me Caitlyn" costume is based on her lingerie-clad Vanity Fair Cover that hit shelves earlier this year.
Jenner, a former Olympic gold medalist and reality TV star known as Bruce, came out as transgender and introduced herself in the magazine story, earning international attention.
Now, Spirit Halloween, one of the biggest Halloween retailers in the country, has confirmed to Daily News they will be selling a costume resembling Jenner's ensemble at its pop-up shops throughout the nation this year.
"Caitlyn Jenner has proven to be the most important real-life superhero of the year, and Spirit Halloween is proud to carry the costume that celebrates her," Spirit Halloween PR and Marketing Head Trisha Lombardo told Daily News.
But critics argue the getup insults transgender people and promotes stereotypes.
The $74.99 costume includes a wig, padded bustier, shorts and a sash that reads, "Call Me Caitlyn."
It was nowhere to be found Wednesday on the Spirit Halloween website. However, the same costume is being sold on the anytimecostumes.com and at wholesalehalloweencostumes.com, where it's less than $50.
Vincent Villano of the National Center for Transgender Equality told Forbes.com: "There's no tasteful way to 'celebrate' Caitlyn Jenner or respect transgender people this way- on the one night of the year when people use their most twisted imaginations to pretend to be villains and monsters."