Chicago area man makes touching tribute with white crosses for Las Vegas shooting victims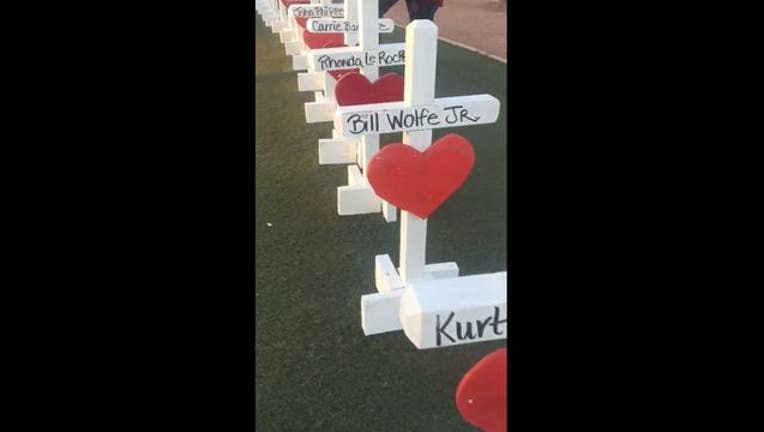 article
LAS VEGAS (KTVU) - KTVU's Frank Somerville posted on his Facebook page about a man from the Chicago area who made 58 white crosses and drove from Illinois to Las Vegas to set them up.
There was cross for each of the victims from the massacre last Sunday night.
The man's name is Greg Zanis. He's a carpenter by trade and quoted as saying, "Las Vegas is having one of its darkest days in American history, but I'm trying to shed a light on that by bringing hope with the cross and showing 'you weren't alone' when this happened."
There are 60 crosses. Zanis set the crosses up with police officers and a woman from the community. Rochelle Stone of Las Vegas sent video of the crosses to KTVU. She says, "I've never seen our city in such a gloomy state. Everyone has come together in such an incredible way. It was so surreal standing in front of the crosses, one by one seeing each name. For the first time in my life my heart is in my throat. Hopefully we can rid evil in this world, but for now, we will all use the love we have to overcome such a tragedy."
The first one says, "God Bless Las Vegas XOXO" The next 58 each have a name on them. And the last one says: "We are battle born."
Stone tells KTVU, "It's so surreal seeing them in person. Each one has so much meaning. I think the best word I can use to describe my feelings currently is numb. Everyone there as they were being set up was holding each other and crying. We all became family in that moment rather than strangers. People always use the saying it hits close to home, however this time it is home, and it's not a feeling I would ever wish upon anyone. Even the individuals who weren't at the event are all suffering as we try to comprehend how something so terrible can happen. But everyone is pulling together."
Zanis creates crosses for losses. He's reportedly made over 20,000 crosses and placed them at public memorials for victims of tragedies.