Chip Carter: What kind of QB will Jameis be?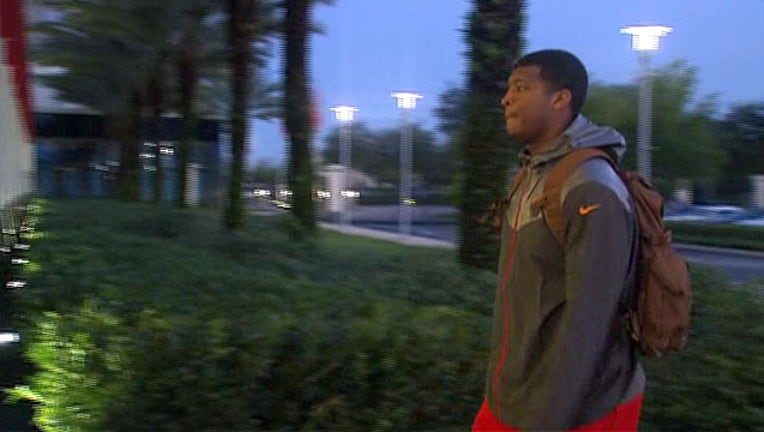 "Jameis Winston is our starting quarterback. He'll be taking first-team reps tomorrow," Buccaneers head coach Lovie Smith said of the Bucs' first practice of training camp. "We brought him in here to be our quarterback." 
The offense now belongs to Jameis Winston, the question is, what kind of rookie quarterback will he be? Will he be Russell Wilson or Blake Bortles?  
As a rookie, Wilson threw 26 touchdowns with only ten interceptions. Bortles had more interceptions than touchdowns, (17 INT's and 11 TD"s) his situation may be closer to what Jameis Winston is facing simply because has a questionable offensive line in front of him like Bortles did.  
Winston has two rookies, left tackle Donovan Smith and right guard Ali Marpet, both of whom may be starting. Smith will definitely be starting, Marpet is a toss up -- and I'm not sure Lovie Smith wants to start the season with Winston at QB and two rookies in front of him in the offensive line. 
 
The Jets gave Geno Smith his first start against the Buccaneers last year. Remember that game, Smith looked dismal, throwing just one touchdown and six interceptions. But, he still pulled off that last minute field goal winning drive -- Jets take the game 18-17. 
There really isn't a firm way of knowing how well Winston will do. Blake Bortles was 3 and 10 in his rookie year, but there are other names like Robert Griffin III who threw for 20 touchdowns and only was picked off 5 times.  
  
The Bucs can look at a quarterback in their own division, Carolina's Cam Newton, and hope that Jameis Winston has the same kind of rookie year. Newton threw 21 touchdowns, rushed for 14 more, had 17 picks, but went to the Pro Bowl and was the NFL Rookie of the year in 2011 -- even though his team finished 4th in the division with a 6-10 record. 
Newton still had offensive talent around him: DeAngelo Williams, Jonathan Stewart, Steve Smith.  
Russell Wilson was a third round pick in the NFL draft and he just lit it up as a rookie. Twenty six touchdowns to just 10 interceptions. Wilson ran for four more touchdowns. I think Wilson succeeded because Seattle didn't put him in a position where he had to make the plays to win, he just had to get the ball to his play makers. 
Of course, Wilson had Marshawn Lynch rushing for nearly 1600 yards, he had 2 receivers with at nearly 100 total catches between them and 14 touchdowns, so a rookie is going to look good with a cast like that. 
 
That's the bottom line to how Jameis Winston will do. Last year, the Bucs' offensive line gave up 52 sacks and was one of the worst, if not the worst in the league.  
How much they improve, how well rookies Donovan Smith and Ali Marpet fit into that line is a big question, along with center Evan Dietrich-Smith and Logan Mankins. 
Both Mike Evans and Vincent Jackson are two 1,000 yard receivers, that combination should help Winston. Plus, toss in tight end Austin Seferian Jenkins, and Winston has three solid receivers to get the ball to.  
Add in rookie receiver Kenny Bell and that combination, I think, goes into this season as the strength of the team. 
The other big question is the running back situation -- Doug Martin is in his last year, the Bucs didn't pick up the option on him and he has been below average the last two years. Injuries have been a big issue, he has played in only 17 games the last two seasons.
  
Charles Sims will be the focus, he has the ability to catch the ball coming out of the backfield, and I think he is a better fit in the kind of offense Lovie Smith wants to see. 
Finally, the last piece of the puzzle in terms of how well Winston does is offensive coordinator Dirk Koetter. Koetter really worked well with Matt Ryan and both Ryan and Jameis Winston are a spread the field type passing quarterback.  
Losing Ted Tedford last season, I think put this offense, in a hole that was simply too deep to pull out of. Marcus Arroyo took over the job but he was in over his head on day one.  
So, on paper, the Bucs seem to have the tools to keep the pressure off of Winston. He just has to protect the ball and manage the offense at this point. Winston doesn't need to make game winning plays, he just needs to make the plays to get the ball to those who can.