Dental student killed in Sarasota boating accident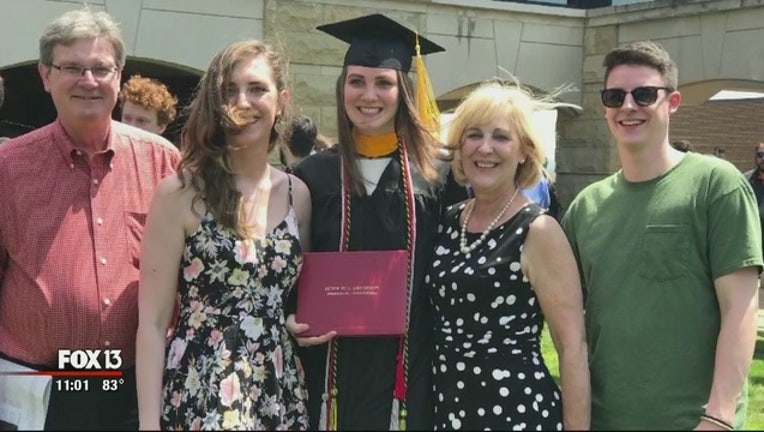 article
SARASOTA (FOX 13) - Family and friends are remembering a Bradenton dental student who died in a boating accident in Sarasota County. 
Those who knew Maggie Murray said she was a bright and kind person, full of promise. Murray, 22, had just finished her first round of rotation after beginning dental school at LECOM School of Dental Medicine.
"She loved to learn, she was like a sponge. Whatever I'd teach, if she wants to know, she would absorb it," said Dr. Katie Dinh, who taught Murray since July. 
Murray was in her first year after graduating from Seton Hill University in Pennsylvania.
"She smiled a lot, she was very bubbly. She's with her group of friends, and she was just a pleasure to have and I'm not just saying that," said Dinh.
According to preliminary findings in an investigation by FWC, a rented pontoon was leaving the Lido Key Beach area when a propeller hit Murray's head while she was still in the water. FWC said Murray was taken to Sarasota Memorial Hospital where she died from her injuries.
Her family and friends back in Pennsylvania are now grieving, including her former college volleyball coach and teammates.
"It's been a very difficult two days. I found out early Sunday morning, and in house, we told the girls the next morning in a meeting," said Rick Hall, Murray's former volleyball coach.
Hall said Murray had a lot of ability and was always a positive person.
"Her last two years, she was a team captain, someone all the girls seemed to just go to if they needed something," said Hall.
Her former teammates plan to honor her before their game Tuesday. 
"I got the kids warmup shirts for tomorrow's match, and they're all going to have the number 9 and Maggie Murray on the back in her favorite color blue. They're going to wear them to warm up," Hall said.
Now there will be a void felt by many in the classroom and beyond.
"For me, for example, if I look up in that row and there was an empty seat in that row, I would always wonder where Maggie is," said Dinh.
The dental school held a celebration of life Monday for the students to remember Murray. Her professor said she remembers Murray's mother being proud her daughter was following her dream in medicine.