DeSantis banks on Trump in his corner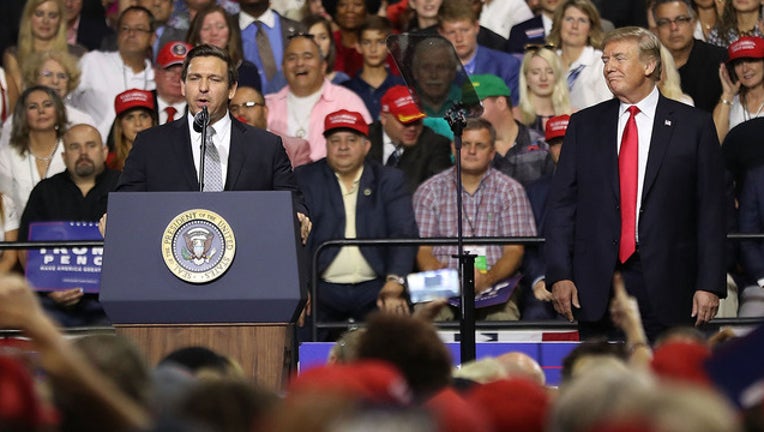 article
TALLAHASSEE (NSF) - Republican gubernatorial candidate Ron DeSantis has to pick a running mate by next week.
But while the Northeast Florida congressman will tap someone to serve as the lieutenant governor on his general-election ticket, don't expect him to abandon the political partner who has been an integral part of his success.
DeSantis said President Donald Trump, who endorsed DeSantis in the GOP primary and praised him in a series of strategic tweets, will continue to play a key role in the campaign, with another Florida visit likely before the Nov. 6 showdown with Democrat Andrew Gillum.
In an interview with reporters shortly after his primary-election victory Tuesday, DeSantis said "I imagine that he will" when asked if Trump would return to Florida for another political rally to help the GOP nominee.
It was a Trump rally on July 31 in Tampa, which happens to be the state's largest media market, that helped propel DeSantis, a three-term congressman from Ponte Vedra Beach, past Agriculture Commissioner Adam Putnam in the primary.
Both DeSantis and Gillum, the Tallahassee mayor who was the surprise victor in the Democratic primary on Tuesday, have begun the general-election campaign by re-emphasizing their support among the parties' most-ardent "base" voters.
It's a sharp contrast to the traditional strategy for Florida statewide candidates who play to the base, through messaging and policy positions, in the primary but then pivot to a more centrist message in the general election.
DeSantis, who won 56.5 percent of the Republican vote in the primary, said motivating the GOP base in the general election is part of his campaign plan.
"When you're talking about a midterm election you've got to turn out your core voters and I'm going to be working hard to do that, but no one can probably do that more than the president," he said.
He reiterated the importance of Trump's help in an interview Wednesday night with Fox News' Sean Hannity.
"He's the 800-pound gorilla in Republican politics. There is nobody that's even close in moving numbers," DeSantis said.
Trump remains extremely popular among Republicans, with polls showing more than eight out of every 10 GOP voters support the president.
But the risk for DeSantis is that Trump is a polarizing figure, meaning the president's support for the GOP candidate might also energize Gillum's supporters.
Also, independent voters, who were not allowed to participate in Tuesday's "closed" primaries, will be an important faction in the November election. Independents, who are the fastest growing segment of the Florida electorate, represent nearly 3.5 million voters out of the total of 13 million.
But while Trump's support for DeSantis might offer a target for Democrats, the Republican candidate is preparing a counterattack that will tie Gillum to supporters and policy positions that energized the progressive Democratic voting base but  may not be popular with the majority of voters.
DeSantis has already repeatedly hammered Gillum for calling for a 40 percent increase in the corporate tax rate to raise $1 billion for Florida schools.
"He wants to raise taxes. He wants to engage in more spending, and that is exactly what we don't need," DeSantis said. "I look forward to (the campaign). I think it's going to be a great contrast and we'll make sure we take it to him."