DeSantis v. Disney: Governor seeks to nullify Reedy Creek agreement, control parks with state oversight powers
ORLANDO, Fla. - It's another move in the fight for control of Disney World's property. Gov. Ron DeSantis and Florida lawmakers ratcheted up pressure on Walt Disney World on Monday by announcing legislation that will use the regulatory powers of state government to exert unprecedented oversight on the park resort's rides and monorail.
The Florida governor previously said Disney-controlled predecessors 'pulled a fast one' by stripping the new board of most powers before his hand-picked members could take their seats. Now, he said lawmakers will introduce a bill in coming weeks that would end an exemption for Disney parks when it comes to ride inspections by the Florida Department of Agriculture and Consumer Services, DeSantis said at a news conference near Disney World.
The agriculture agency is responsible for inspecting amusement rides in Florida, but an exception was carved out for the state's largest theme park operators, such as Disney and Universal Destinations & Experiences. Under the proposal, the exemption would end for rides located in special districts, which basically targets just Disney World.
READ: Disney CEO Bob Iger: 'Retaliation' by Florida governor is 'anti-business,' 'anti-Florida'
In remarks made to Ohio Republicans last week, DeSantis teased this latest move in a year-long battle with Disney, saying 'round two of fireworks' are coming.
But the governor says he didn't start this fight. It all started when Disney said it was against the 'Parental Rights in Education Act', which prohibits "classroom instruction" about sexual orientation or gender identity from kindergarten through third grade.
In retaliation, the Florida legislature overhauled Disney's 55-year, self-governing body known as the Reedy Creek Improvement District.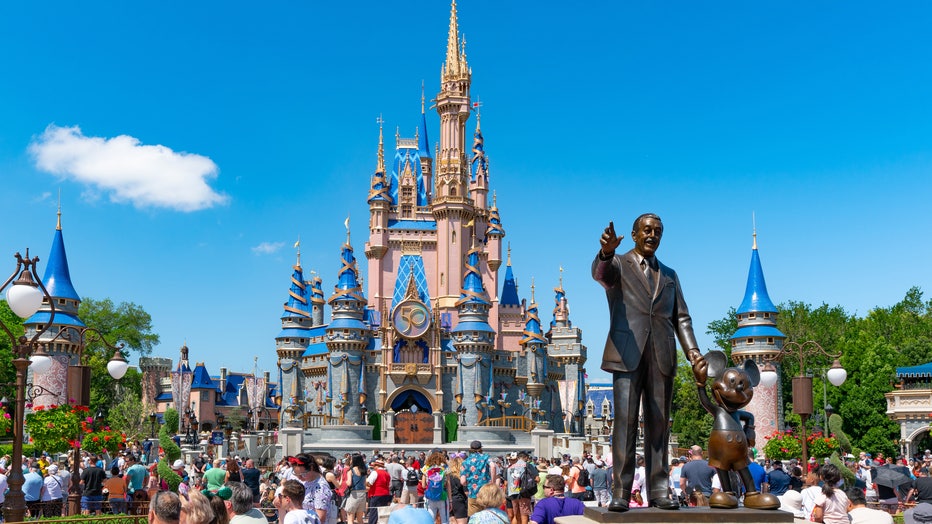 ORLANDO, FL - APRIL 03: General views of the Walt Disney 'Partners' statue at Magic Kingdom, celebrating its 50th anniversary on April 03, 2022 in Orlando, Florida. (Photo by AaronP/Bauer-Griffin/GC Images)
In February, five new supervisors were appointed to the Central Florida Tourism Oversight District. Last month, the new DeSantis appointees claimed their Disney-controlled predecessors pulled a fast one by stripping the new board of most powers and giving Disney control over design and construction at the theme park resort before the new members could take their seats.
But just before leaving, members of the previous Disney-controlled board passed covenants that transferred developmental power to the company before the new board could take over.
"This essentially makes Disney the governor, this board loses tactical purposes, that includes the majority of its ability to do anything," said Ron Peri, newly appointed to the Central Florida Tourism Oversight District.
RELATED: DeSantis vows to have Disney pay its fair share of taxes: 'There's a new sheriff in town'
"That includes things like transportation planning, stormwater planning, growth management," said another member, Brian Aungst Jr.
Reedy Creek board members also prohibited their successors from using the name "Disney" or any symbols associated with the theme park without the company's permission and barred the new board from using the likeness of Mickey Mouse other Disney characters, or other intellectual property.
The company denied that it kept the plan quiet, and said the changes complied with Florida's public meeting laws.
Supervisors of the Central Florida Tourism Oversight district have now been floating a resolution saying the board has "superior authority" over all land development decisions for the 27,000 acres that make up Walt Disney World.
The board is set to vote on the resolution on Wednesday, April 19, but that could potentially change after the governor's announcement. The New York Post reported it could be as soon as Monday. 
Experts say this is likely a starting point for future legal tussles between the new board and Disney.
DeSantis on Monday said the agreement between Disney and previous supervisors was illegal, claiming it was self-dealing and proper advance notice wasn't given before the old board approved it, and that lawmakers had the authority to revoke it.
The governor also suggested the new board should sell the district's utility in order to pay down the district's $1 billion debts.
Somewhat tongue-in-cheek, DeSantis suggested Monday that the new board or lawmakers could take other actions with Disney's 27,000 acres in central Florida, such as building a state park, a competing theme park or a prison.
"I think the possibilities are endless," DeSantis said.
The Associated Press contributed to this report