Developers get pushback on plans for 400-unit apartment complex in Tarpon Springs
TARPON SPRINGS, Fla. - Developers want to build more than 400 apartments along the Anclote River in Tarpon Springs, but some environmentalists said it would push out wildlife and add more traffic to an already busy area. 
The proposed development by the Morgan Group out of Texas would build 404 new apartments on U.S. 19 North. The plan includes building five four-story structures with two access points from the highway. On Tuesday, city commissioners listened to the developer's proposal and the city's assessment of the plan in a public hearing for its first reading. But the plan comes with strong pushback from environmental advocates.
"This is an area that needs to be preserved not only for our environment but for our future," said Peter Dalacos, president of the Friends of the Anclote River, an environmental group, and Concerned Citizens of Tarpon Springs.
City council members heard plenty of concerns, and the meeting ended after midnight. They have yet to vote on the plan, and will meet again Wednesday night to finish and vote on the development plan.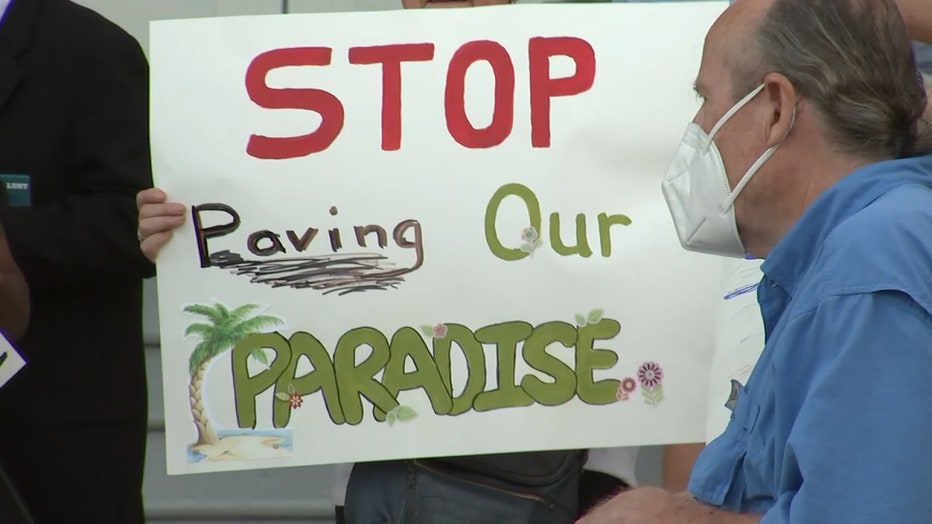 Dalacos and dozens of other residents protested the potential 64-acre development at Tuesday's meeting. Environmental advocates and concerned residents said the coastal storm area is home to eagles, gophers, and other wildlife.
"This is one of the last large parcels of land in Pinellas County that is undeveloped. Pinellas County is the most densely populated in our state. We cannot afford to lose our last remaining undeveloped land," said Jacqui Turner, a Tarpon Springs resident. "This is a precious resource that's gone forever."
The Anclote Harbor development plan would develop about 18% of the 64-acre property, preserving about 35 total acres of wetlands and upland habitat. But there are concerns about sea-level rise and high flooding risk, and some residents said additional traffic to the area is alarming.
"The traffic in the mornings is backed up going south and in the afternoons it's backed up going north. Everybody knows how bad the traffic is there," said Dalacos.
While the city decides whether to move the project forward, some residents said the land should stay as is.
"It's not the right development for this land and for Tarpon. We've had citizens come out not only tonight but for quite frankly years trying their best to protect this land," said Turner.
A second reading for the proposed development is scheduled for November 9.